Library
Germany in its agony: a very personal story
MARCUS FERRAR - A Foot in Both Camps: A German Past for Better and for Worse - LBLA Digital - 2012
---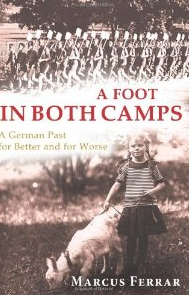 Reuter correspondent for a year in East Berlin at the beginning of the 70s, Marcus Ferrar has written one of the best books on Germany that, as one of his successors in that legendary Schönhauser Allee office six years later, I've had the enjoyable privilege of reading.
You don't have to be a Reuter groupie to enjoy this one. No name-dropping, no complex internal newsroom detail. Just a hugely sympathetic and insightful sweep across the tragedy, trauma, resilience and recovery of Germans through two world wars and four decades of communism.
Now a freelance writer based back in the UK after years in Switzerland, Ferrar was born in England near the end of the war to a German emigre mother and a British dad, and uses the two feet he has in the German and the English camps to explore both the collective and his own very personal story of Germany.
He dances elegantly between family reminiscences, especially those of his nearly 100-year-old mother whose girlish elegance in her old people's home brackets the book, and the uncomfortable facts of German history.
Like many of us, with and without German heritage, who spent time with now sadly late Erdmute Greis-Behrendt in those cramped Stasi-bugged Reuter rooms in Prenzlauer Berg (how wonderful that Marcus interviewed Erdmute before she died, capturing her memories of World War II and her extraordinary integrity through decades of the closest surveillance), the author adores Germany in its agony.
But he also tackles head-on, and with great sensitivity and blunt kindness, the painful questions of collective guilt and responsibility, of how such a civilised nation could have led Europe into catastrophe, and the terrible post-war trauma of ethnic cleansing and rape inflicted on defeated Germans.
Reuter folk in their later years write memoires that are sometimes good, and some perhaps less so. Ferrar's is not just good, but brilliant. ■