News
Thomson Reuters stock price target raised to C$49
Friday 5 December 2014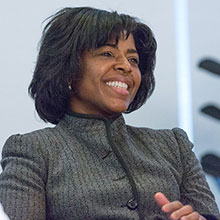 Equities researchers at TD Securities increased their price target on shares of Thomson Reuters to C$49.00 from C$46.00. The firm currently has a Buy rating on the stock.
One investment analyst has rated the stock Sell, two have assigned a Hold rating and four say Buy. The company's average rating is Hold and the average target price C$44.10.
Thomson Reuters shares traded on the Toronto Stock Exchange closed at C$45.19, half a percentage point lower, on Thursday.
On the New York Stock Exchange, the shares closed at $39.71, a little more than half a percentage point lower.
The company's latest quarterly dividend of $0.33 is scheduled to be paid on 15 December to shareholders of record on 20 November.
Separately, Thomson Reuters director Deirdre Stanley (photo), who is executive vice president, general counsel and board secretary, sold 25,000 shares of the company's stock on Wednesday at an average price of $39.79, for a total transaction of $994,777.50. The sale was disclosed in a legal filing with the US Securities & Exchange Commission. ■
SOURCE