News
Obituary: Jeremy Smith
Monday 15 December 2014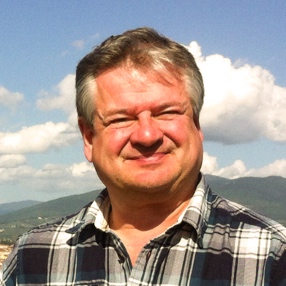 Jeremy Smith (photo), a former deputy news editor and stalwart of Reuters television, died on Sunday aged 54.
He had recently been diagnosed with lung cancer.
It was the calmness, kindness and pin-point news judgment that made Jeremy one of the best-loved and highly regarded TV news editors.
Jeremy joined what was then Visnews in April 1984, after a short stint at ABC, on the syndication desk, working his way up to a feed producer, overseeing the production of daily satellite feeds to Visnews clients.
In February 1989 came his break, when he was sent to Afghanistan to cover the withdrawal of Russian troops. He ended up staying in Pakistan where on 13 February he covered a protest outside the American Cultural Center against Salman Rushdie's novel The Satanic Verses. Six people died in the protest when Pakistani troops opened fire - the exclusive Visnews coverage was shown on Iranian TV and the next day, Ayatollah Khomeini issued the fatwa calling for the death of Rushdie and his publishers.
Through the 1990s Jeremy worked his way through various desks in the newsroom, including a stint running the New York TV bureau, before returning to London as a regular Intake Editor. It was in this role that Jeremy came to be known to so many TV colleagues around the world for his patience, knowledge, compassion and fairness. His calmness on the desk when speaking to colleagues on the front line was hugely impressive, and was welcomed by those at the sharp-end of TV newsgathering.
From 2004 Jeremy moved upwards again, eventually becoming deputy global editor. In this role he was widely appreciated for having a huge amount of time for colleagues in the field, bureaux and the newsroom, often calling to check they were okay, offering emotional and professional support, as well as overseeing the global news operation.
For much of that time he was also the Middle East editor, a region he took to his heart, as his many colleagues in the region took him to theirs; indeed his last official day with Reuters was spent with many of them in Amman.
Since leaving Reuters a year ago Jeremy had been involved in a number of projects - he set up an art and crafts shop; regularly volunteered for a local food bank; as well as travelling and spending time with his wife Anna and their three sons Christopher, Alexander and Matthew.
---
Note: This article has been corrected to show that Jeremy Smith worked at ABC not NBC before he joined Visnews. ■