News
Journalists under attack in dismantling of free speech
Friday 30 October 2015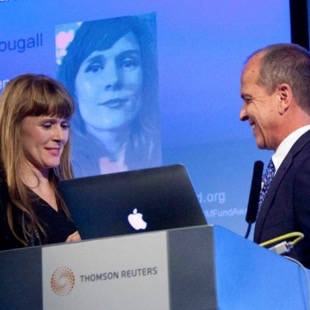 Free speech is being dismantled and attacks on journalists are increasing, speakers said at the Kurt Schork Awards in international journalism.
During a panel discussion chaired by BBC journalist Stephen Sackur, Samia Nakhoul, Reuters Middle East editor, said: "Attacks on journalists have multiplied and it comes from all fronts."
Peter Greste, former Reuters correspondent now with Al Jazeera English in Nairobi, said: "The 'war on terror' has changed the dynamic. It has given governments a free pass to lock up journalists." Greste, deported from Egypt in February after 400 days in prison and subsequently sentenced in absentia to three years in jail, said there was a tendency to use the "war on terror" as an excuse to limit the work that journalists were doing.
Asked whether he thought it was getting worse, The Guardian's diplomatic editor Julian Borger, said: "Yes, I do… As a model, we're losing ground. As a model, we've lost a bit of our self-confidence."
Christiane Amanpour, CNN's chief international correspondent, said there was a chilling effect on free speech and the ability to question. "The surveillance world is surreptitiously removing our freedom from us."
Two journalists were selected as this year's winners of the $5,000 annual awards.
Clair MacDougall was the winner of the freelance category. An Australian journalist, she has worked in West Africa since 2011 where she was Reuters correspondent for Ghana until January 2012 and stringer for Liberia for the year ending January 2013. Based in Monrovia, she covered the Ebola epidemic from its outbreak.
Ekaterina Sergatskova of Ukraine won in the local reporter category for her coverage of the fighting in eastern Ukraine. She was unable to receive the award in person because the British government did not grant her a visa.
The awards commemorate correspondent Kurt Schork who was killed in Sierra Leone in 2000 while on assignment for Reuters. The two winners were selected from entries by 148 journalists from 56 countries who submitted 444 published reports.
The ceremony was hosted by the Thomson Reuters Foundation at the London offices of Thomson Reuters.
---
PHOTO: Clair MacDougall receives her award from Peter Greste. ■