News
Foundation manager moved from solitary cell, still locked up
Sunday 5 June 2016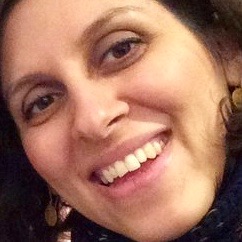 Nazanin Zaghari-Ratcliffe (photo) of the Thomson Reuters Foundation, detained without charge in Iran, has been moved from solitary confinement to a common cell.
She was arrested by members of Iran's Revolutionary Guard at Tehran's Imam Khomeini airport in early April during a visit to her Iranian parents. She had been about to board a flight home to the UK with her two-year-old daughter Gabriella.
She was held in an unknown location in the southern province of Kerman. Her daughter, who is British and does not have Iranian nationality, has been placed in the care of Zaghari-Ratcliffe's family in Iran and her passport confiscated.
Zaghari-Ratcliffe is a London-based Foundation project coordinator in charge of grants applications and training. She was born in Tehran in 1978 and moved in 2007 to the UK, where she met Richard Ratcliffe while studying. They married in 2009, and five years later Gabriella was born in London.
The family has been told that her arrest is connected to a matter of national security.
Her husband is campaigning for signatures to a petition to be submitted to British prime minister David Cameron calling on him to use his power and intervene. Thus far, it has been signed by nearly three-quarters of a million people.
"In Iran it has all gone quiet - there have been a number of religious feast days," Ratcliffe wrote in his latest message about the situation. "The authorities have said nothing more to the family since their visit. They have never said anything to me anyway…
"In this silence there is a lot of waiting. In Iran there is a tradition of claiming your rights largely through enduring, going every day to the government office or prison and waiting silently - whether for one's right to a family visit, for one's confiscated papers to be returned (or at least be told where to wait), for the discretionary telephone call, or charges, or discretionary release on a religious feast day…
"The Revolutionary Guard does not justify its actions in part because it can't. It is a strange fantasy where a mother and baby on a family visit are a security threat. Half an hour's questioning would have revealed that Nazanin does not work on Iran and was not planning to. Her and Gabriella's treatment cannot be justified under Iranian, international or even Islamic law."
The Thomson Reuters Foundation has no dealings with Iran and does not operate in the country.
Reuters has not had a bureau in Iran since 2012 when all staff there had their press accreditation suspended because of a mistake in a story about women's martial arts training.
Petition ■