News
'Outrage' at new charges against Nazanin Zaghari-Ratcliffe
Monday 9 October 2017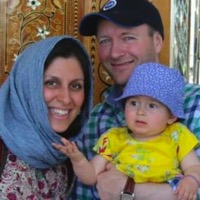 Thomson Reuters Foundation CEO Monique Villa expressed outrage at new charges brought against Nazanin Zaghari-Ratcliffe and called for government intervention to end her ordeal in Iran.
In a statement, she said "our colleague at the Thomson Reuters Foundation who has been a political hostage in Iran for 554 days, was subjected yesterday to another mockery of justice by the Iranian Revolutionary Guard who have re-opened her case and added three new charges that carry an additional 16 years in jail.
"She is currently serving a five-year sentence in Evin jail in Tehran. These charges are linked to her work at BBC Media Action and at the Thomson Reuters Foundation. The accusation states that her charity work was a screen to overthrow the Iranian regime.
"This is a complete invention as the Thomson Reuters Foundation doesn't work in Iran and has no programme or dealings with Iran. We continue to assert that she is 100% innocent and that these ludicrous charges must be dropped immediately, and Nazanin released and reunited with her daughter Gabriella and her husband Richard.
"This inhumane treatment is breaking up a young family and has already caused irreparable damage to Nazanin's physical and mental health. What happened yesterday and the description that the family has given is harrowing. Hearing that Nazanin, who we know to be a very strong woman, almost collapsed in court, is another sign of how traumatised she must be now. We are all shocked by this new development and ask the Iranian government to put an end to her torture and the British government to finally intervene to end the ordeal of this British national."
Villa tweeted that she was outraged by the new charges. She urged a full reading of a press release issued by Richard Ratcliffe's Free Nazanin campaign in which he said that his wife's family paid bail to prevent her being put back into solitary.
"Nazanin and the rest of her family are bewildered at this turn. Her family are calling on the Iranian Ambassador and UK government to condemn this new abuse of her by the Revolutionary Guard," he said.
Ratcliffe said that, during the course of the hearing, his wife said she felt very ill.
"She was shocked, having been promised temporary release by the Judiciary only 2 weeks earlier. She cried all the time, and nearly passed out. She couldn't believe the heavy blow.
"Initially Nazanin was called in to see the Judge alone. But when she began uncontrollably crying, one of the female guards was also brought in. She told the Judge repeatedly: You know she has to go to see a psychiatrist. You know that she is taking pills for her depression. And you know that she is a calm prisoner. She does not cause trouble.
"He said he knew very much.
"When the Judge had finished his questioning, he typed up his Judgement for her to sign whether she agreed or disagreed. Nazanin said she was unable to walk with the shock, but sat there half paralysed. When she had to leave her chair, she could not walk to the table normally. Her legs went numb, and she had to crawl. Her hands were shaking as she signed.
"Hours later she reported to her family that her legs were still numb, that she still had a very high heart rate.
"Nazanin insisted that she was the one to tell her mother, only during yesterday's family visit. The family all cried again yesterday, though not in front of Nazanin when she had been reassuring them.
"She also told them on Saturday, that she had been to see an optician. Her eyesight has deteriorated significantly in prison."
The Thomson Reuters Foundation is hosting a special performance of Looking for Mummy: Nazanin's Story, a theatrical production by Emi Howell, at its Canary Wharf offices on Tuesday.
On Wednesday, Amnesty UK is organising an event in Parliament Square for Zaghari-Ratcliffe and Kamal Foroughi, between 1100 and 1200. It will be laying out the hundreds of tulips that have been made by Amnesty supporters throughout the UK.
---
PHOTO: Nazanin Zaghari-Ratcliffe with her husband Richard and their daughter Gabriella. ■
SOURCE