News
Nazanin Zaghari-Ratcliffe 'may be freed early'
Thursday 21 December 2017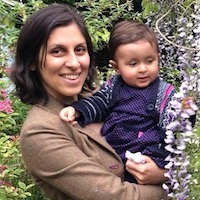 Nazanin Zaghari-Ratcliffe has been told she is eligible for early release from prison in Iran, raising hopes she could be freed on humanitarian grounds.
The Thomson Reuters Foundation project manager told her husband Richard in a phone call from jail in Tehran that her lawyer had just informed her of the development.
She said the lawyer told her that her case had been marked by the Iranian judiciary as "eligible for early release."
Ratcliffe, who has been calling on Iran to release his wife before Christmas, said the news did not mean her release was guaranteed but he viewed it as a positive sign following the visit to the Iranian capital earlier this month by British foreign secretary Boris Johnson.
"Yesterday, Nazanin's lawyer went to visit her - he had an arranged meeting - and he was excited and said that he had checked the database at the judiciary and she was now marked as being eligible for early release. Before it was marked as closed case," he told The Guardian.
Ratcliffe said her lawyer was under the impression that the authorities were now finalising paperwork for her release.
"That is not the same as having received a letter from the judiciary, but it's clearly a very good sign. He was excited, and he told her, listen, I think it's the question of finalising the paperwork. He didn't say [she'll be released] tomorrow but within a couple of weeks, he thought. So she was upbeat for that," Ratcliffe said.
She is serving a five-year sentence on charges of planning to topple the Iranian government after she was arrested at Tehran airport following a visit to her parents with her baby daughter, Gabriella (photo) in April 2016.
The Foreign Office and Johnson have both played down hopes of an early release but Richard Ratcliffe has said he still believes she may be able to return in time for Christmas.
His wife's health has deteriorated during her time in jail, including months in solitary confinement, and new charges were said to have pushed her to the brink of a mental breakdown. ■
SOURCE