News
Pulitzer winners join call for Reuters reporters' freedom
Thursday 28 December 2017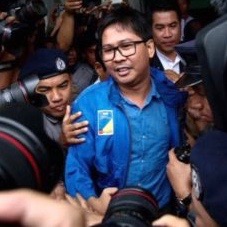 Fifty Pulitzer Prize winners have jointly called for the immediate release of two "brave, principled and professional" Reuters journalists arrested in Myanmar.
Wa Lone (photo) and Kyaw Soe Oo were arrested on 12 December after accepting a dinner invitation from police.
They had been covering the crisis in Myanmar's Rakhine state and were charged under the Official Secrets Act for "illegally acquiring information with the intention to share it with foreign media." The charge carries a maximum prison sentence of 14 years.
"Their arrest is an outrageous attack on media freedom. Wa Lone and Kyaw Soe Oo are brave, principled and professional journalists who were working in the public interest and were jailed simply for doing their jobs," the Pulitzer winners said in a joint statement.
"We call on the Myanmar government to immediately release Wa Lone and Kyaw Soe Oo, reunite them with their families, and drop all charges against them."
The Pulitzer winners join several rights groups and Western governments in condemning the arrests as an attack on press freedom and demanding their release.
The two Reuters journalists were remanded in custody for an additional 14 days on Wednesday during their first court appearance since their arrest. ■
SOURCE