News
US official's resignation hurts efforts to free two Reuters reporters
Thursday 25 January 2018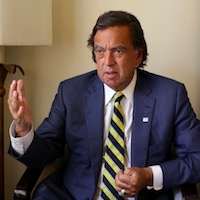 Efforts to secure the release of two Reuters journalists detained in Myanmar suffered a setback with the resignation of a US official from an international advisory board on the crisis in the country's Rakhine state.
Bill Richardson (photo), former US politician and diplomat, said just over a week ago he would work for the release of the men in his capacity as a member of the panel.
"My objective, along with the chairman of the commission, is to get them out while we are there in Myanmar," Richardson said at the time.
Richardson, former US ambassador to the United Nations and energy secretary in the administration of President Bill Clinton, was chosen by Myanmar's leader Aung San Suu Kyi to sit on the 10-member board.
On Wednesday, Richardson quit and said: "The advisory board is mainly a whitewash and a cheerleading operation for the Myanmar government, and I'm not going to be part of it because I think there are serious issues of human rights violations, safety, citizenship, peace and stability that need to be addressed. I just felt that my advice and counsel would not be heeded."
He said he got into an argument with Suu Kyi during a meeting on Monday with other members of the board, when he brought up the case of Reuters journalists Wa Lone, 31, and Kyaw Soe Oo, 27, who are on trial accused of breaching the country's Officials Secrets Act. They had been reporting on the crisis in ​Rakhine.
He said Suu Kyi's response was "furious", saying the case of the reporters "was not part of the work of the advisory board". The argument continued at a dinner later that evening, he said.
The Reuters reporters were arrested on 12 December after they had been invited to meet police officers over dinner. In court on Tuesday, they heard that a decision on a bail application would be given on 1 February. ■
SOURCE