News
Myanmar policeman who arrested Reuters reporters says he burned his notes
Tuesday 6 February 2018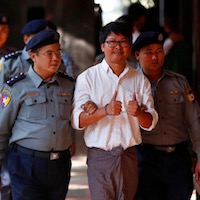 A Myanmar police officer who was part of the team that arrested two Reuters journalists in December told a court on Tuesday that he had burned the notes he made at the time, but gave no reason why he had done so.
Police Second Lieutenant Tin Htwe Oo was the latest prosecution witness to give evidence at the court in Yangon, which will decide whether reporters Wa Lone (photo), 31, and Kyaw Soe Oo, 27, should be charged under the country's colonial-era Official Secrets Act.
The policeman read from a notebook to recount details of the arrest, which he said was based on notes written at the time. Under cross-examination by the reporters' lawyer, he said he had burned his original notes, but had not been instructed to do so.
"Only the police will know the reason for that," defence lawyer Than Zaw Aung, hired by Reuters, told reporters after the hearing.
Dozens of reporters and diplomats were present when the two journalists were brought in handcuffs from prison to the crowded courtroom.
They had worked on Reuters coverage of a crisis in Rakhine state, where an army crackdown on insurgents since the end of August has triggered the flight of 688,000 Rohingya Muslims to Bangladesh, according to the United Nations.
The two journalists were detained on 12 December after they had been invited to meet police officers over dinner in Yangon. They have told relatives they were arrested almost immediately after being handed some documents at a restaurant by two officers they had not met before.
The two reporters, whose application for bail was declined at the previous hearing, have now been in detention for eight weeks, first in police custody and then in Yangon's notorious Insein prison.
"We feel there's no justice," Wa Lone shouted as he and Kyaw Soe Oo were led to a police truck after the hearing. "The testimonies from the police officers are far from the truth."
The Official Secrets Act dates back to 1923 - when Myanmar, then known as Burma, was under British rule - and carries a maximum prison sentence of 14 years.
The next hearing was set for 14 February.
"Wa Lone and Kyaw Soe Oo are journalists who perform a crucial role in shedding light on issues of global interest," Reuters said in a statement after the hearing.
"We believe that the ongoing court proceedings will demonstrate their innocence and they will be able to return to their jobs reporting on events in Myanmar. We are grateful for the expressions of support for Wa Lone and Kyaw Soe Oo and continue to call for their prompt release." ■
SOURCE