News
CEO warns of disruption as Thomson Reuters moves towards F&R sale
Thursday 8 February 2018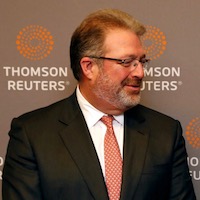 Disruption is inevitable as Thomson Reuters prepares for the sale of most of its core terminals and data business to Blackstone, chief executive James Smith (photo) said on Thursday.
In a note to the group's 45,000 staff, Smith wrote that it "is inevitable that there will be some disruption as we work on building the correct alignment between the new F&R partnership and Thomson Reuters".
The message came as the company reported its first earnings since announcing it would sell 55 per cent of F&R, which provides news and analytics to financial services companies, to the world's biggest private equity firm. The deal is expected to close in the second half of this year.
Revenue in the fourth quarter of 2017 slightly missed forecasts at $2.94 billion, up three per cent, but profit beat Wall Street expectations.
Net earnings were $591 million, or 81 cents per share, down from $2.24 billion, or $3.03 per share a year earlier. Adjusted for special items, earnings were 60 cents per share.
Analysts, on average, were looking for profit of 58 cents per share, and revenue of $2.95 billion.
Net sales in F&R were positive for the quarter. Revenue for the division rose one per cent to $1.55 billion excluding currency. Under the deal with Blackstone, Thomson Reuters will retain a 45 per cent stake in F&R.
Thomson Reuters has relied heavily on cost-cutting in recent years as its core customers, including banks, brokerages and investment houses, retrench in the face of weakening trading conditions, tougher regulations and the rise of passive investing.
Reuters News revenue was $75 million in the quarter, down five per cent excluding currency. ■
SOURCE