News
Thomson Reuters forex trading hits new record
Tuesday 13 February 2018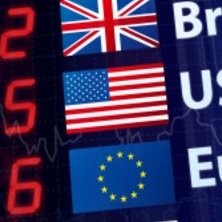 Foreign exchange trading volumes on Thomson Reuters platforms hit a new record in January.
Average daily volumes totalled $432.1 billion, with $107.9 billion for spot trading.
It followed the successful roll-out of the company's enhanced multi-lateral trading facility to buy-side clients and liquidity providers following new rules for cross-border financial services in Europe.
"Following preparation for and then implementation of one of the most complex regulatory initiatives in a generation, our success over the last month reflects the value we place in listening to our clients and ensuring our solutions meet their MiFID II needs," said Neill Penney, co-head of trading.
"As the market evolves, we are committed to making additional enhancements across our trading businesses, including enriched analytics and algo trading capabilities."
Thomson Reuters operates two foreign exchange platforms supporting an average daily trading volume of more than $407 billion.
Thomson Reuters FXall is a dealer-to-client marketplace used by more than 2,300 institutional clients and 180 market makers. Thomson Reuters Matching is an anonymous electronic trade matching system used by thousands of market participants in every region of the world to access and trade on deep liquidity in over 80 currency pairs.
The original Markets in Financial Instruments Directive (MiFID) led to a major shift in the cash equity markets by seeking to remove barriers to cross-border financial services within Europe. MiFID II extends those transparency requirements.
MiFID II execution requirements for foreign exchange derivatives went into effect on 3 January. ■
SOURCE