News
Obituary: Charles Mitchelmore
Sunday 18 February 2018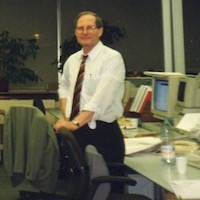 Charles Mitchelmore (photo), for many years the night editor at the International Herald Tribune in Paris and, early in his career in the 1960s, an editor on the North America desk of Reuters when it was based in London, died in Paris on 14 February of leukaemia. He was 80.
Julian Nundy writes: Mitchelmore was raised in Oregon where he began his journalistic career at 13 writing sports stories for The North Bend News. In 1958, he graduated with a BA in journalism from the University of Oregon where he had edited the university newspaper, The Emerald.
Mitchelmore arrived in Europe as a US airman during his 1959-1962 military service when he was posted to England. From then on, he hardly left, living again in England, working at Reuters and taking another degree in Modern History at Cambridge in 1971.
Then he freelanced in Vienna, at the time the journalistic hub for Eastern Europe as well as the base for several international agencies, and in Milan before moving to Paris for Newsweek in 1976. It was in Vienna that he met his wife, the pianist Laurana Rice Trimble.
In 1980, Mitchelmore moved to the IHT. From the mid-1980s until his retirement in 2002, he was the regular night editor, putting the paper to bed. Never known to raise his voice, he had a breadth of culture and background that helped shape the paper and ensure the accuracy of the content. His evening log notes were often gems of humour; one, listing a run of mishaps that had threatened catastrophe at every turn, mused on the role of the full moon in the sky above.
Tributes by former colleagues on social media after his death stressed Mitchelmore's calm demeanour at work, his quiet determination and, above all, his kindness and unfailing courtesy to fellow colleagues.
Although his Reuters days were distant, Mitchelmore retained an affection for his time there and was an advocate for Reuters copy in the IHT. On slow evenings in the Paris newsroom, he would recall his time at Reuters in general and stress his affection for Jack Hartzman, the late World Desk horseman, in particular. Jack would invariably send Mitchelmore his regards in phone calls to and from the Trib. ■