News
Thomson Reuters CEO James Smith 'expected to make full recovery'
Tuesday 20 February 2018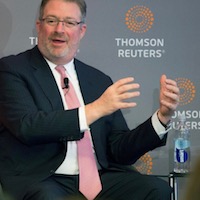 Thomson Reuters chief executive James Smith (photo) remains in hospital after falling ill with "an arrhythmia incident" - an irregular heartbeat - and is expected to be released within the next two weeks, the company said.
Arrhythmias are usually treated by medication, medical procedures such as a pacemaker, or surgery.
Smith was admitted to a Toronto hospital on 12 February after feeling unwell. A fortnight earlier he oversaw the company's largest transaction since the Thomson Corporation bought Reuters in 2008, supervising the sale of a majority stake in its terminals and data business to private equity firm Blackstone.​
"Mr. Smith's condition is stable and doctors expect a full recovery," Thomson Reuters said in a statement on Tuesday. "It is expected that Mr. Smith will be released from the hospital within the next two weeks, followed by a period of further recovery," the statement said.
Smith has been chief executive since 2012. Chief financial officer Stephane Bello continues to oversee Smith's responsibilities alongside his own, in line with the company's practice, the statement added. ■
SOURCE