News
Blackstone CEO sees 'all kinds of efficiencies' in financial data business
Tuesday 6 March 2018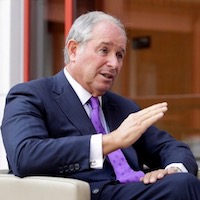 Blackstone believes - and the Thomson family agrees - it can do a better job integrating Thomson Reuters' financial and risk division with "all kinds of efficiencies" when the private equity giant takes control of the business later this year.
Blackstone is expected to have greater freedom to be aggressive and cut costs than Thomson Reuters has had as a public company, the Thomson-owned Globe and Mail of Toronto said on Tuesday.
"We think - and the Thomson family, I think, and the board agrees with this - we can do, probably, a better job integrating the company. They've got very good data. It's probably not displayed sometimes as well as a competitor," Blackstone CEO Stephen Schwarzman (photo) said at a banking conference in New York.
"This is fixable. There are all kinds of efficiencies that you can have."
The ink is not yet dry on Blackstone's $17 billion deal to buy 55 per cent of F&R and already, Schwarzman is angling for "frank, friendly conversations" with Blackstone's vast web of contacts, pitching the merits of his firm's plan to revamp the unit's fortunes, the newspaper said.
The deal places Blackstone at the centre of a long-running battle for supremacy in the market for financial data, where Thomson Reuters has struggled to gain ground against rival Bloomberg. Thomson Reuters' financial and risk division brought in $6.1 billion in revenue in 2017. Schwarzman conceded that the financial data niche is "dominated by Bloomberg, which has very good product".
Blackstone has a track record of squeezing better performance out of the businesses it buys, The Globe and Mail said. In this case, Schwarzman thinks the company has a trump card in its sleeve: Through its private equity and real estate deals, his firm claims to be the world's largest source of fees paid to the very banks and financial firms that need financial data. "They're almost all really good friends of ours," he said.
Royal Bank of Canada CEO Dave McKay, who was interviewing Schwarzman and whose bank hosted Tuesday's conference, chimed in: "We've got lots of [Thomson One] machines."
Schwarzman replied: "Keep ordering and I'll keep coming to conferences," drawing laughs from the audience. "Apparently I can be had - now we know my price."
Schwarzman, 71, is the private equity industry's highest earner with a package of $786 million last year.
When Canada's Thomson family merged the Thomson organisation with Reuters in a $17 billion deal a decade ago, it had high hopes for growth, The Globe and Mail said. But the deal was struck just as a global financial crisis arrived and the company had been in turnaround mode ever since.
"The deal didn't go as well, I think, as everybody would like it to have gone," Schwarzman said. "And we got involved in the situation because we thought there was an opportunity to make the company much better."
Woodbridge, the Thomson family holding company and majority owner of Thomson Reuters, owns The Globe and Mail. ■
SOURCE