News
Nazanin: Better messages but 'What's going on?'
Saturday 10 March 2018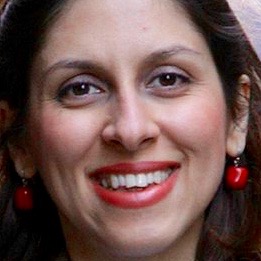 The husband of Nazanin Zaghari-Ratcliffe (photo), jailed in Tehran, on Saturday demanded urgent updates from the Foreign Office in London about what was holding up her return to the UK.
Richard Ratcliffe, who took part in a small gathering outside the Foreign Office, said there had been positive signs from the Iranian authorities but the family did not know when she might be coming home.
Zaghari-Ratcliffe, who works for the Thomson Reuters Foundation, was arrested at Tehran airport in April 2016.
She is serving a five-year jail sentence for alleged sedition, charges she has always denied.
"We've been getting better messages from the Iranian side, from the judiciary and the prosecutor's office in Iran," Ratcliffe said.
"This week the head of prison said, 'Oh yes, I've approved her release, I approved it a number of months ago'. So there's been clearly things to hold on to, hopefully," he told Sky News television.
"Part of the aspiration of today's message to the Foreign Secretary Boris Johnson is I would like to meet to ask what's the blockage? What's going on?"
A Foreign Office spokeswoman said: "We will continue to approach each case in a way that we judge is most likely to secure the outcome we all want. Therefore we will not be providing a running commentary on every twist and turn." ■
SOURCE