News
Obituary: Brian Bain
Thursday 8 March 2018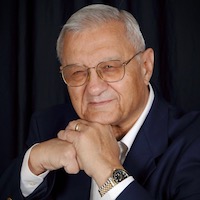 Brian Bain (photo), a Reuters journalist for 37 years, died suddenly, apparently in his sleep, at home in Florida on Wednesday. He was 79.
His wife Barbara, a former colleague in the Washington bureau, said he had been ill but seemed to be getting better. It was likely he had suffered a heart attack.
An iconic desk editor and executive in the early days of Reuters North America, Bain worked in London, Hong Kong and Singapore, but his main love was the United States where he served as news editor in Washington and managing editor of the Americas based in New York.
He learnt his craft during 10 years with The Statesman, Calcutta, before joining Reuters where his major assignments included supervising, editing and reporting on seven Olympic Games, including Munich 1972, three US presidential campaigns, and the handover of Hong Kong to China.
Known for his distinctive accent, dedicated work ethic and love of American alt-country singer Willie Nelson, Bain was instrumental in developing Reuters' presence in the United States in the 1970s, 1980s and 1990s, said former Reuters America editor Andrew Nibley.
"It was the Wild West for Reuters back then," Nibley said. "In general news, we were a distant third to the Associated Press and United Press International. In financial news, no one had ever heard of 'Rooters'. Dow Jones was king and Bloomberg had not yet been invented. Brian helped put us on the map through a combination of hiring good people and setting an example of hard work."
Bain was an impeccable editor and had a keen instinct for a good story. He drove his staff to work long hours, and was a generous host known for inviting his direct reports to his home afterwards for a long evening of food, drinks and storytelling.
Bain retired from Reuters in 2001 and moved to Sarasota, Florida, but later accepted an assignment to Seoul to work at South Korea's leading English language newspaper The Korea Herald in editorial executive roles for 20 months.
In retirement, Bain switched to a new occupation selling real estate. He worked until the end as a successful agent in Sarasota, selling his last house on the last day of his life.
He was a father, a grandfather, and very recently a great-grandfather.
---
A memorial service will held at 11 o'clock on Saturday 7 April at the Episcopal Church of the Nativity, Sarasota, Florida. The eulogy will be delivered by Andrew Nibley. ■