News
Reuters reporters in court again 100 days after their arrest in Myanmar
Wednesday 21 March 2018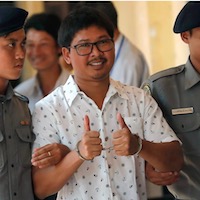 Two Reuters reporters appeared in a Myanmar court for the 11th time on Wednesday, which marked 100 days since they were arrested in December and accused of possessing secret government papers.
A Yangon court is holding preliminary hearings to decide whether reporters Wa Lone (photo), 31, and Kyaw Soe Oo, 28, will face charges under the colonial-era Officials Secrets Act, which carries a maximum penalty of 14 years in prison.
"They have been detained in Myanmar since December 12 simply for doing their jobs as journalists," Reuters president and editor-in-chief Stephen Adler said in a statement.
"Wa Lone and Kyaw Soe Oo are exemplary individuals and outstanding reporters who are dedicated to their families and their craft. They should be in the newsroom, not in prison. We call on the authorities in Myanmar to release them as soon as possible and allow them to return to their families and their jobs."
The journalists have told relatives they were arrested almost immediately after being handed some rolled up papers after being invited to a restaurant by two officers they had not met before.
They had been investigating the killing of 10 Rohingya Muslim men in a village in western Myanmar's Rakhine state during a military crackdown in August.
The crackdown, which the United Nations has said was ethnic cleansing, has sent nearly 700,000 people fleeing to Bangladesh.
Diplomats from countries including the United States, Canada, Sweden and the European Union attending the court hearing in Myanmar's largest city, Yangon.
The Danish embassy, which has closely monitored the case, said the pair had spent "100 days behind bars for ensuring the public's right to information".
"The embassy of Denmark in Myanmar strongly urges the Government of Myanmar to drop all charges against Wa Lone and Kyaw Soe Oo and to release them immediately," the embassy said before the hearing. ■
SOURCE