News
Policeman describes 'trap' to arrest Reuters reporter
Friday 20 April 2018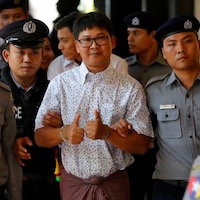 A Myanmar police chief ordered officers to "trap" a Reuters reporter arrested in December, telling them to meet the journalist at a restaurant and give him "secret documents", a police prosecution witness told a court on Friday.
Police captain Moe Yan Naing gave details to the court in the city of Yangon of the hours leading up to the arrest of Wa Lone (photo), 32, and his colleague Kyaw Soe Oo, 28, who had accompanied him to the meeting, and said the police had arranged a "set up".
Reuters president and editor-in-chief Stephen Adler said in a statement: "Today the court finally heard the truth. One of the prosecution's own witnesses admitted that the police received orders to plant evidence and arrest Wa Lone and Kyaw Soe Oo on false charges. This case cannot be squared with fairness or justice, and it's time to bring it to an end. We call for our journalists' immediate release."
The court has been holding hearings since January to decide whether the pair will be charged under the colonial-era Official Secrets Act, which carries a maximum penalty of 14 years in prison.
They had been working on a Reuters investigation into the killing of 10 Rohingya Muslim men and boys in a village in western Myanmar's Rakhine state, during an army crackdown that United Nations agencies say has sent nearly 700,000 people fleeing to Bangladesh.
Seven soldiers have been sentenced to "10 years in prison with hard labour in a remote area" for participating in the massacre, the army said this month.
In his testimony, the police captain said he had been interviewed in November by Wa Lone about police operations in Rakhine state. He was one of two officers from the paramilitary 8th Security Police Battalion who the police identified in December as "allegedly involved in the case".
Moe Yan Naing said he had been under arrest since the night of 12 December and had been told to testify on Friday as a prosecution witness.
He said that earlier on the day the Reuters reporters were arrested he was picked up from his post in Yangon and taken to Battalion 8's headquarters on the northern edges of the city.
When he arrived, he said he found himself among a group of several other Battalion 8 policemen who had given interviews to Wa Lone. They were interrogated by a police "information team" about their interactions with the Reuters reporter, he said.
Moe Yan Naing told the court that police Brigadier General Tin Ko Ko, who led the internal probe, ordered police Lance Corporal Naing Lin to arrange a meeting with Wa Lone that night and hand over "secret documents from Battalion 8".
"Police Brigadier Tin Ko Ko gave the documents to Police Lance Corporal Naing Lin and told him to give them to Wa Lone and said that when Wa Lone comes out of the restaurant, the Htaunt Kyant regional police force has to entrap him and arrest him," said Moe Yan Naing.
"Police Brigadier General Tin Ko Ko told the police members, 'if you don't get Wa Lone, you will go to jail'," said Moe Yan Naing in a raised voice.
Wa Lone and Kyaw Soe Oo have been in custody since their arrest.
Senior UN officials, Western nations and press freedom advocates have called for their release and diplomats from several embassies were among those attending Friday's hearing.
Amal Clooney, counsel for the two reporters and Reuters, said in a statement: "Reuters journalists Wa Lone and Kyaw Soe Oo have now been in prison in Yangon for over four months. Their arrest and prosecution are part of a crackdown on freedom of the press in Myanmar intended to silence sporting on the crimes committed against Rohingyas. The journalists are young Buddhists who have done nothing to harm the state. Yet they face a sham trial for possessing 'official secrets' and may be sentenced to up to 14 years in prison." ■
SOURCE