News
Policeman denies planting documents on Reuters reporters
Thursday 17 May 2018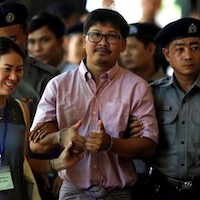 A Myanmar policeman told a court he met two Reuters reporters on the night of their arrest on 12 December 2017, but denied giving them secret documents to incriminate them.
Police Lance Corporal Naing Ling's testimony contradicted a previous witness, Police Captain Moe Yan Naing, who said a police chief had ordered Naing Lin to arrange a meeting with reporter Wa Lone (photo) and give him officials papers in order to "set up" the journalist.
"During my meeting with Wa Lone and Kyaw Soe Oo, I didn't take anything from them and I didn't give anything to them," Naing Lin told Judge Ye Lwin. During cross-examination, defence lawyer Than Zaw Aung said phone records showed Naing Lin calling Wa Lone three times in the afternoon and the evening of 12 December, the day the pair were arrested.
Naing Lin said he met the Reuters reporters over dinner and was not accompanied by any other policeman.
At the end of Wednesday's hearing, police told the court that Sergeant Khin Maung Lin, who was due to testify, had been fired from the police and his whereabouts were unknown.
A previous witness, Police Captain Moe Yan Naing, has told the court a police chief ordered Naing Lin and another policeman to give "secret" documents to Wa Lone in an operation to entrap him.
The court in Yangon has been holding hearings since January to decide whether Wa Lone 32, and his Reuters colleague Kyaw Soe Oo, 28, will be charged under the colonial-era Official Secrets Act, which carries a maximum penalty of 14 years in prison, for allegedly obtaining confidential documents.
At the time of their arrest, the reporters had been working on an investigation into the killing of 10 Rohingya Muslim men and boys in a village in western Myanmar's Rakhine state. The killings took place during an army crackdown that United Nations agencies say sent nearly 700,000 people fleeing to Bangladesh. ■
SOURCE