News
Reuters reporters 'deprived of sleep' during police probe
Tuesday 12 June 2018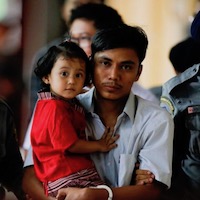 Two Reuters reporters accused of possessing secret documents were subjected to sleep deprivation and asked if they were spies during police interrogations in Myanmar, their lawyers suggested during questions posed to a police witness on Monday.
Cross-examining police captain Myint Lwin at a court in Yangon, defence lawyer Than Zaw Aung asked if he was aware the two reporters were "not allowed to sleep" for three consecutive days during the initial police probe after their detention on 12 December.
He also asked the witness whether reporter Kyaw Soe Oo (photo with his daughter Moe Thin Wai Zin) was "forced to kneel down" on the floor for more than three hours during questioning by investigators.
In what has become a landmark press freedom case, the court in Yangon has been holding hearings since January to decide whether Kyaw Soe Oo, 28, and his Reuters colleague Wa Lone, 32, will be charged under the colonial-era Official Secrets Act. The alleged offences carry a maximum penalty of 14 years in prison.
Captain Myint Lwin, the officer in charge of the Yangon police station that conducted the preliminary inquiry after the pair were arrested, denied the reporters were deprived of sleep or made to kneel, saying officers were not allowed to "do such a thing" under his command.
He also denied, under cross-examination, that the reporters were sent to a specialist interrogation facility after their arrests, saying they were detained at the police station in northern Yangon until his team finalised the preliminary probe and handed the case to a police crime investigation unit on 26 December.
After the hearing, Wa Lone and Kyaw Soe Oo confirmed details of their treatment, telling reporters they had been questioned every two hours for about three days after their arrests by different officers, who asked if they were spies.
Wa Lone said it was completely untrue that they had remained in a regular police station.
"It is mental and physical torture," a second defence lawyer, Khin Maung Zaw, told Reuters after Monday's proceedings, adding that evidence gathered through such methods was unlawful and should not be presented to the court.
Reuters president and editor-in-chief Stephen Adler said in a statement the news agency had long been deeply concerned about how the reporters were treated during their interrogation.
"No one, including Wa Lone and Kyaw Soe Oo, should be subject to mistreatment of the kind they describe," he said.
"It is for this reason, and many others, that we hope the court will bring this matter to an end as swiftly as possible, and restore the press's confidence in its ability to work safely and responsibly in Myanmar."
In another statement on Tuesday, Adler said: "It has now been six months since Wa Lone and Kyaw Soe Oo were arrested. They have been imprisoned for too long on false accusations. Their truthful and impartial reporting on an issue of incredible global importance has been recognized in Myanmar and all over the world. We look forward to the court's ruling on whether to charge them in the coming weeks, as we remain hopeful that the court will fulfill Myanmar's commitment to rule of law and dismiss this case." ■
SOURCE