News
Blackstone starts marketing big F&R buyout loan
Monday 25 June 2018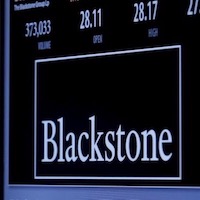 Private equity giant Blackstone has begun marketing debt financing equivalent to $8 billion in euros to large institutional investors backing its $20 billion acquisition of a 55 per cent stake in Thomson Reuters' terminals and data business, Reuters reported.
The world's largest buyout financing package since the 2008 financial crisis is anticipated in September, Reuters quoted sources saying.
The package is being "premarketed" and is expected to formally launch soon after the US Labor Day holiday on 3 September, two sources said.
"It's a huge deal, they (banks) are trying to gauge interest," a source close to the transaction told Reuters.
The acquisition of the financial and risk division, announced on 30 January, is expected to close in September or October, after regulatory requirements made a targeted 1 July close date look increasingly unlikely, Reuters reported.
A Blackstone filing with the European Commission on 15 June showed that EU antitrust regulators will decide by 20 July whether to clear the acquisition.
The private equity firm was able to command favourable financing terms when the deal was underwritten in January, but the leverage finance market has softened in the interim, which makes placing a jumbo buyout loan more challenging, Reuters said. ■
SOURCE