News
Thomson Reuters defends its work for ICE
Wednesday 27 June 2018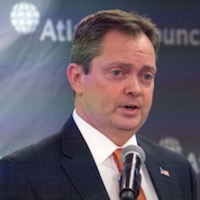 Thomson Reuters has defended its work for US authorities tracking illegal aliens in the United States and pointed to the Trust Principles.
Stephen Rubley (photo), chief executive of Thomson Reuters Special Services (TRSS), said Thomson Reuters "provides products and services to many parts of the U.S. government in support of the rule of law".
TRSS does not provide data directly to those responsible for separating children from their parents at the US-Mexico border, he stated.
"In the case of the U.S. Department of Homeland Security, we have considered who in that organization should be granted access to our products and for what specific purposes. Thomson Reuters Special Services provides the Immigration and Customs Enforcement (ICE) agency with products that support active investigations and priority cases involving threats to public safety and/or national security.
"Our products are not used by the Border Patrol Division for purposes of patrolling the border for undocumented immigrants or their detainment."
Rubley was responding to an open letter sent to Thomson Reuters CEO James Smith by Privacy International, a London-based charity "that challenges overreaching state and corporate surveillance, so that people everywhere can have greater security and freedom through greater personal privacy".
Privacy International expressed concerns and sought urgent clarifications regarding Thomson Reuters' contractual relationships with United States immigration authorities. It mentioned specific contracts ICE has with TRSS and another subsidiary, West Publishing, and asked whether any Thomson Reuters products or services are being or have been used by US authorities to identity families for immigration enforcement purposes, including parents potentially separated from their children.
It also asked whether Thomson Reuters Corporation will commit to not providing products or services to US immigration agencies or agencies worldwide "which may be used to enforce such cruel, arbitrary, and disproportionate measures".
Rubley's response was passed on to The Intercept, an adversarial investigative journalism organisation. It noted that Rubley "pointed Privacy International to the corporation's 'Trust Principles,' which make no mention of the acceptability or unacceptability of providing data services to the agency - though Trust Principle No. 5 does state, tellingly, that 'no effort shall be spared to expand, develop, and adapt the news and other services and products so as to maintain its leading position in the international news and information business.'"
Kim Williams, chairman of the Thomson Reuters Founders Share Company which safeguards the Trust Principles, told Stephen Somerville, chairman of The Reuter Society, last week it was satisfied that the editorial independence of Reuters is unaffected by the TRSS contract with ICE.
The Intercept noted that Rubley is on the board of the ICE Foundation, a non-profit that "supports the men and women of ICE".
It wrote: "The reporters at Reuters have been providing crucial, unflinching coverage of the cruel treatment of would-be immigrants under policies pushed by President Donald Trump. Meanwhile, the news agency's parent company, Thomson Reuters, has been supplying U.S. Immigration and Customs Enforcement with data from its vast stores as part of federal contracts worth close to $30 million. A letter from a Thomson Reuters executive shows that the company is ready to defend at least one of those contracts while remaining silent on the rest."
In a second letter to Thomson Reuters CEO Smith provided to The Intercept, Privacy International makes clear that the response from the company so far "does not address any of our specific questions," and that Privacy International is "disappointed to have so far not received a response from West Publishing Corporation, or from Thomson Reuters itself."
The Intercept said that, "in response to a request for more information about Thomson Reuters' overall corporate relationship with ICE and West Publishing's work for the agency specifically, a company spokesperson replied saying only that Thomson Reuters Special Services 'products are not used by the Border Patrol Division for purposes of patrolling the border for undocumented immigrants or their detainment,' again making no mention of West Publishing. The spokesperson declined to comment on whether Thomson Reuters would pursue further business with an agency involved in separating children from their parents." ■
SOURCE