News
Reuters journalists charged, trial begins next Monday
Monday 9 July 2018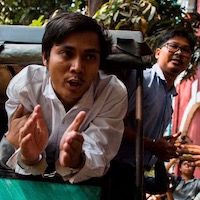 Two Reuters journalists held in Myanmar since December were formally charged on Monday under the country's colonial-era Official Secrets Act.
Wa Lone and Kyaw Soe Oo (photo) were charged under the 1923 law for allegedly illegally possessing state secrets in government documents. They face up to 14 years in prison if convicted.
Before their arrest, the journalists were investigating the killing of 10 Rohingya Muslim men in northern Rakhine state. Reuters published their report with accounts from villagers and security personnel in February.
Stephen Adler, Reuters president and editor-in-chief, said in a statement: "We are deeply disappointed that the court declined to end this protracted and baseless proceeding against Wa Lone and Kyaw Soe Oo. These Reuters journalists were doing their jobs in an independent and impartial way, and there are no facts or evidence to suggest that they've done anything wrong or broken any law. They should be released and reunited with their families, friends, and colleagues. Today's decision casts serious doubt on Myanmar's commitment to press freedom and the rule of law."
The case has attracted global attention. Some Western diplomats and rights groups say it is a test of progress towards full democracy under the administration of Nobel laureate Aung San Suu Kyi in a country where the military still wields considerable influence.
Speaking outside the Yangon court, defence lawyer Khin Maung Zaw said he was not satisfied with the decision. When asked if this case represented "backsliding" press freedom in Myanmar, he said: "If you say backsliding that would mean there has been an advance, but there has been no advance, just a slippery slope."
Khin Maung Zaw told The Guardian the journalists will plead not guilty and four witnesses will be heard in court for Wa Lone and two for Kyaw Soe Oo. He expects the trial to last two months at the most.
The journalists were detained on 12 December when they met police officials at a restaurant and were handed documents allegedly linked to security operations in Rakhine. More than 700,000 Rohingya refugees have fled from Rakhine to Bangladesh since attacks in August last year, which the UN called a textbook example of ethnic cleansing.
Since their arrest the journalists have been held in Insein prison. Monday's hearing marked the end of the pre-trial phase which included nearly 30 court appearances over seven months. The Reuters journalists will now formally go to trial on 16 July.
---
Timeline ■
SOURCE