News
Detained reporters: Judge sets verdict for next Monday
Monday 20 August 2018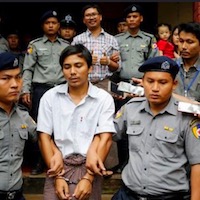 The judge in the trial of two Reuters reporters jailed in Myanmar on accusations of obtaining secret state documents said he will deliver his verdict in a week's time.
The date was set after closing arguments had been delivered in the case, which is seen as a test of press freedom in the country.
The court in Yangon has been holding hearings since January to decide whether, Wa Lone, 31, and Kyaw Soe Oo, 28, (photo) are guilty of breaching the colonial-era Official Secrets Act, which carries a maximum sentence of 14 years in prison.
Reuters called for their acquittal and immediate release and said imprisoning them for even one more day would be unlawful retribution for their truthful and important journalism.
A company statement on the journalists, who have been detained since their arrest in December 2017, said: "The evidence before the court is clear: Wa Lone and Kyaw Soe Oo are two honest reporters who did not commit a crime. Imprisoning them for even one more day would be unlawful retribution for their truthful and important journalism. We look forward to the court's acquittal, which will be an important step towards demonstrating Myanmar's commitment to rule of law, freedom of the press, and democracy."
Summarising its argument for acquittal, Reuters said: "The evidence shows they were set up by Myanmar police in an effort to silence their reporting on misconduct by security forces in Rakhine State. A prosecution witness testified that a police officer planted documents on the journalists moments before their arrest. Wa Lone and Kyaw Soe Oo had no knowledge of the documents' contents, which weren't "secret" at all; they had already been published in government newspapers. There's no proof of any kind that the Reuters reporters intended to harm Myanmar or aid its enemies. Applying Myanmar law, there's no basis for a conviction. Wa Lone and Kyaw Soe Oo should be released immediately." ■
SOURCE