News
Blackstone's $13.5 billion F&R buyout debt expected soon
Thursday 23 August 2018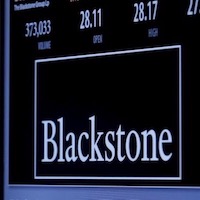 Syndication of a $13.5 billion debt package backing Blackstone's control of Thomson Reuters' financial and risk division is expected to launch in the first week of September.
The loan and bond package is expected to launch in Europe on 3 September and in the United States on 4 September after the Labor day holiday, bankers close to the deal told Reuters.
The deal is the largest buyout financing since the 2008 financial crisis and its launch has been eagerly awaited since the deal was underwritten and announced in January.
"The deal has a lot of the classic features of a leveraged buyout; there are a lot of opportunities for cost cuts. If anything the leverage may be lower than before but there's not much change there," a senior leveraged finance banker said.
Blackstone's proposed 55% majority stake in F&R - to be renamed Refinitiv - secured EU approval on 23 July. It is still awaiting further regulatory approvals, including the US.
"With any leveraged buyout you don't want to waste investors' time if the deal isn't sure to happen but Thomson Reuters is very well advanced," the banker added. ■
SOURCE