News
'Overwhelmed' Nazanin released from prison - for three days
Thursday 23 August 2018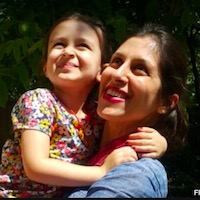 Nazanin Zaghari-Ratcliffe has been granted a three-day release from prison in Iran and is now with her four-year-old daughter Gabriella (photo). She said she was "overwhelmed".
In London, her husband Richard Ratcliffe said his wife's temporary release was a "happy surprise" and she is with family in Damavand.
In a statement and photo issued by the Free Nazanin campaign, he said his wife was still in her nightclothes when she was given 10 minutes notice on Thursday morning that she was being released until Sunday.
The campaign group said the furlough had been discussed for several weeks but there had been "a number of false dawns".
In comments issued by the campaign, Zaghari-Ratcliffe said she "wasn't expecting it at all" and it was "awesome" for her daughter Gabriella to "have mummy home".
Zaghari-Ratcliffe works for the Thomson Reuters Foundation. She was jailed for five years in 2016 after being convicted of spying while on a holiday visit to her parents in Iran.
Her family have previously criticised the UK government for not negotiating her release.
Ratcliffe has campaigned for his wife's release since she was jailed and earlier this month met new British foreign secretary Jeremy Hunt who vowed to do "everything we can to bring her home".
The campaign thanked "all those involved in making this possible in Tehran and London, and the new foreign secretary".
Ratcliffe said: "Furlough is not full freedom - we want her home, not just on holiday from prison - but it is still such a good step."
Hunt called the release "really good news" with credit going to the "tireless campaigning" of Mr Ratcliffe and the family's friends.
"But," he added, "being in prison at all is [a] gross injustice and she must be permanently released for which every effort will continue." ■
SOURCE