News
Nazanin back in prison: 'It is beyond cruel'
Sunday 26 August 2018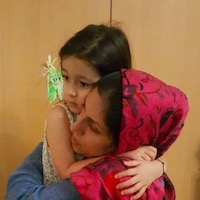 Nazanin Zaghari-Ratcliffe returned to prison in Iran voluntarily on Sunday following three days of freedom with her family.
The Thomson Reuters Foundation project manager was reunited with her parents and her four-year-old daughter Gabriella during the temporary release.
She applied for an extension, but it was denied, her husband Richard Ratcliffe said in London.
She chose to return to Tehran's Evin prison "with her head held high" rather than be "dragged out" in front of her child, he said.
Zaghari-Ratcliffe, a dual citizen of Iran and the UK, was jailed for five years in 2016 after being convicted of spying, a charge she denies.
She had been arrested at Tehran airport after visiting her family on holiday. She insists the visit was to introduce her daughter to her relatives.
Her husband said that her lawyer had been initially confident that his appeal for an extension to the release would be granted.
Having received mixed messages throughout the day, she was then told she had to return to prison by sunset on Sunday as the necessary permit had not been signed off.
A picture of her saying goodbye to her daughter was posted on the Free Nazanin campaign's Twitter account.
In a statement, Ratcliffe said: "After discussion with her family in Iran, Nazanin decided that she would go into prison.
"She did not want to be dragged out of the house in front of her baby, but would walk into prison with her head held high."
He said Gabriella, who has been staying with family in Iran, cried when she realised her mother was leaving.
He said: "Nazanin waited for Gabriella to wake up before saying goodbye, and left her family home to return to Evin prison."
She told her daughter "the next time she saw her, it would be forever, not just for a few days - for proper freedom, not just for furlough" and that "next time they will go back to London to be with daddy".
Her husband had believed she would not have to go back into prison.
"I still find it an extraordinary decision," he said. "I did not believe after all the effort it took to get out, it would only be for three days."
His wife told him she was concerned about the impact of the latest development on her young daughter, saying: "You can't send a small child her mummy, and then take her away again after three days. It is cruel. It is beyond cruel." ■
SOURCE