News
Jailed reporters: Judge sick so verdict postponed
Monday 27 August 2018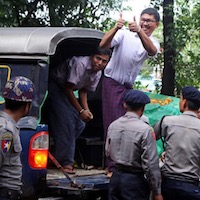 The verdict in Myanmar's prosecution of two Reuters reporters accused of breaching the Official Secrets Act was postponed for a week on Monday because the judge overseeing the case is sick, a court official said.
Scores of reporters and diplomats had gathered at the Yangon court to hear the verdict on Wa Lone, 32, and Kyaw Soe Oo, 28, (photo), the culmination of eight months of hearings in a case that has come to be seen as a test of the country's progress towards democracy.
Monday's court proceedings lasted only a few minutes, long enough for a judge standing in for Judge Ye Lwin, who has overseen the case, to announce that a ruling would be made next week.
"The judge is in poor health, so I am here to announce that the verdict is postponed to the third," said Judge Khin Maung Maung.
Defence lawyer Khin Maung Zaw told reporters that the stand-in judge had said the verdict was ready but it had to be pronounced by the judge assigned to the case.
Wa Lone smiled broadly and made a thumbs-up sign with his hands in cuffs as he walked into the court, with Kyaw Soe Oo just behind him.
"We are not afraid or shaken. The truth is on our side. Whatever the situation is, we will not be shaken. They cannot make us weak," Wa Lone told reporters after the brief hearing.
Several journalists who came to cover the verdict wore T-shirts that read "Free Wa Lone and Kyaw Soe Oo" and "Journalism is not a crime."
"We are disappointed not to have received the judge's decision today," Reuters said in a statement.
"Wa Lone and Kyaw Soe Oo have already spent more than eight months in prison based on allegations of a crime they did not commit. We look forward to the receiving the verdict next week, when we very much hope that they will be acquitted and reunited with their families."
The Reuters reporters are accused of breaching the colonial-era Official Secrets Act, which carries a maximum sentence of 14 years in prison, by collecting documents relating to the country's security forces.
The climax of the case comes amid rising pressure on the administration of Nobel laureate Aung San Suu Kyi over a security crackdown in the state of Rakhine that was sparked by militant attacks in August 2017.
A UN mandated fact-finding mission later on Monday will release a report on the crackdown, which triggered the exodus of more than 700,000 stateless Muslim Rohingya, according to UN agencies.
On Tuesday, the United Nations Security Council in New York will hold a briefing on Myanmar. ■
SOURCE