News
Myanmar court allows jailed Reuters reporters' appeal to proceed - lawyer
Tuesday 20 November 2018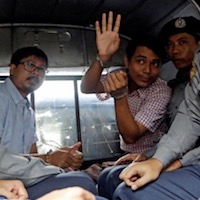 Myanmar's High Court has allowed an appeal to proceed in the case of two Reuters reporters jailed for seven years on charges of breaking the country's Official Secrets Act, defence lawyers said on Tuesday.
The appeal against the conviction, filed earlier this month, cited evidence of a police set-up and lack of proof of a crime. The lawyers did not specify when the Yangon-based court made its decision and there was no formal announcement from the court. Reuters was unable to contact the court outside office hours.
"It is confirmed that the case has been accepted," said lawyer L. Khun Ring Pan, a member of the defence team. "We hope that the High Court will finally provide justice for Wa Lone and Kyaw Soe Oo [photo] and declare them innocent."
The two reporters, respectively 32 and 28, were found guilty in September after a trial at a Yangon district court in a landmark case that has raised questions about Myanmar's progress towards democracy and sparked an outcry from diplomats and human rights advocates.
Myanmar leader Aung San Suu Kyi said in September that the jailing of the reporters had nothing to do with freedom of expression. In comments made the week after their conviction, she said they had been sentenced for handling official secrets and "were not jailed because they were journalists".
When lodging the appeal in early November, Reuters editor-in-chief Stephen Adler said: "The trial court's ruling was wrong.
"In condemning them as spies, it ignored compelling evidence of a police set-up, serious due process violations, and the prosecution's failure to prove any of the key elements of the crime."
Adler also said the court shifted the burden of proof from the prosecution to the Reuters reporters, and called on Myanmar to "uphold its stated dedication to rule of law, freedom of the press, and democracy by ordering the release of our colleagues". ■
SOURCE