News
Obituary: Maurice Quaintance
Tuesday 4 December 2018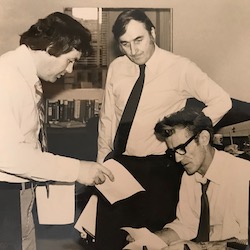 Maurice Quaintance, who has died at the age of 86, was Reuters Washington bureau chief during the latter part of the 1970s when Jimmy Carter was in the White House.
He had taken over one of the most prestigious and challenging journalistic roles in Reuters in succession to John "Pat" Heffernan, who retired in 1976 after 18 years as chief representative in Washington. Reuters had considered Heffernan its most distinguished bureau chief in Washington since the American Civil War.
As bureau chief, Quaintance helped supervise coverage of the 1976 presidential election which resulted in Carter, a Georgia peanut farmer, going to Washington.
He was recalled to Reuters head office in 1978 to be editorial staff manager.
Quaintance had joined Reuters as a sub-editor in London in 1963 after working for provincial newspapers in Britain and in Africa following national service with the British Army. Promotion came rapidly: In two years he was appointed European editor.
In 1968, when Reuters was stepping up the pace of editorial computerisation with the introduction of an automatic data exchange (ADX), Quaintance became father of the National Union of Journalists chapel representing London editorial staff in negotiations with the company.
A period of two years in Singapore as news editor, Asian services, in the early 1970s was followed by a return to London as assistant staff manager in 1972.
When Quaintance resigned in 1980, assistant general manager Kevin Garry referred to his "distinguished contribution to Reuters during his 17 varied years with the Company".
He died on 28 November.
---
The funeral will be on Thursday 10 January 2019 at 2:00 pm at the Holy Trinity Church, Church Lane, Sunningdale, Ascot, Berkshire SL5 0NJ, followed by burial at Kiln Lane Cemetery, Sunningdale, Berkshire. Refreshments afterwards at the Berystede Hotel and Spa, Bagshot Road, Sunninghill, Ascot, Berkshire SL59JH.
Flowers are welcome or donations to The Thames Hospice which can be sent to Lines Bannisters Funeral Directors, 69 High Street, Ascot, Berkshire SL57HP.
---
PHOTO: Maurice Quaintance (centre) in Washington in 1976 with correspondents Peter Gregson (left) and Bruce Cobb (right). ■