News
Many laid-off staff already told - CEO James Smith
Wednesday 5 December 2018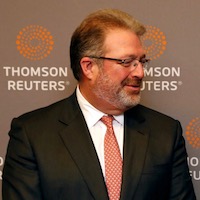 Many Thomson Reuters employees affected by wide-scale lay-offs have already been notified, as have 90 per cent of locations expected to be hit by office consolidation plans.
"Efficiency initiatives" in what chief executive James Smith (photo) calls "the 'new' Thomson Reuters" also include efforts to streamline the product portfolio by about 11 per cent, "allowing us to focus more on our highest value-add products".
At the company's investor day in the group's Toronto Customer Centre on Tuesday, a 2020 growth target of 3.5 per cent to 4.5 per cent was set, "driven by opportunities to cross-sell and up-sell, acquire new customers and improve retention".
Thomson Reuters told investors and analysts it will cut 12 per cent of its workforce by 2020, eliminating 3,200 jobs, as part of a plan to streamline the business and improve operating efficiencies.
The lay-offs follow the $17 billion sale of a 55 per cent stake in Thomson Reuters' financial & risk division to private equity firm Blackstone. F&R has been re-branded as Refinitiv.
Smith said in a message to staff after Tuesday's meeting: "Ultimately everyone wants to work for a company that is growing, is successful and is a dynamic place to work. We can be all these things - if we work together with speed for the customer.
"We shared updates on efficiency initiatives that have been underway as we optimize Thomson Reuters to become a faster, more digital company where employees are empowered to do what is right for the customer."
This included specifics on "ongoing work to organize around the customer, reduce layers and simplify our operations. Overall, we expect this to result in a 12% decline in our total headcount by 2020, including attrition."
He added: "it is important to remember many affected employees have already been notified, as have 90% of the locations that are expected to be affected by our office consolidation plans…
"Thanks for all of your hard work through this year. We had a very positive story today which was well received. It is clear that we have strong underlying businesses, deep customer relationships and an exciting opportunity to grow Thomson Reuters." ■
SOURCE

Thomson Reuters