News
Jailed Reuters reporters win more honours
Wednesday 12 December 2018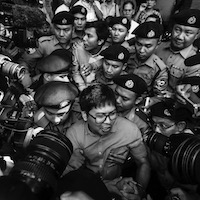 The two Reuters reporters imprisoned in Myanmar are TIME magazine's Persons of the Year with other oppressed journalists for "taking great risks in pursuit of greater truths". They have also won British Journalism Awards.
Under the heading "The Guardians and the War on Truth" TIME released four separate covers. They show Reuters reporters Wa Lone and Kyaw Soe Oo, murdered Saudi journalist Jamal Khashoggi, persecuted Philippines editor Maria Ressa, and journalists at Capital Gazette in Annapolis, Maryland where five were killed a gun attack in June.
The Reuters reporters' wives were photographed holding photos of their jailed husbands for one of the covers.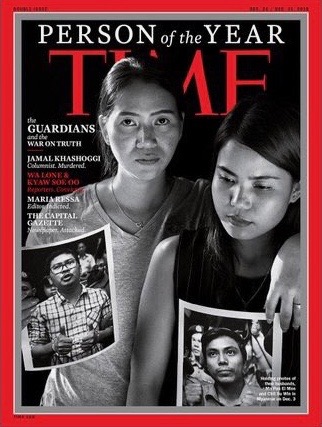 TIME editor-in-chief Edward Felsenthal said they were "representative of a broader fight by countless others around the world… who risk all to tell the story of our time".
The magazine said: "For taking great risks in pursuit of greater truths, for the imperfect but essential quest for facts, for speaking up and for speaking out, the Guardians… are TIME's Person of the Year."
Wa Lone and Kyaw Soe Oo, arrested a year ago today and now serving a seven-year prison sentence for allegedly breaching Myanmar's Official Secrets Act, won two British Journalism Awards prizes: Foreign Affairs Journalism and Investigation of the Year (Global).
Reuters has said there is no evidence of wrongdoing by either journalist and last month launched an appeal against their sentence.
The awards judges said: "We are all in debt to reporters who are willing to put their liberty on the line in order to tell the world things the world needs to know about."
A Reuters statement said: "We are honored that Wa Lone and Kyaw Soe Oo have been recognized as part of TIME's Person of the Year. On the eve of marking a full year behind bars, we hope this recognition will draw continued awareness to their unjust arrest and imprisonment in Myanmar, and reaffirm the essential role of a free press around the world. Every day that Wa Lone and Kyaw Soe Oo remain in prison is an assault on press freedom."
Press Gazette editor-in-chief Dominic Ponsford said the British Journalism Awards had "sent out the strongest possible message of support" for the pair and wished Reuters success with their appeal. ■
SOURCE