News
One year behind bars: thumbs up for jailed reporters
Wednesday 12 December 2018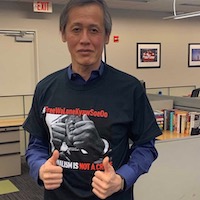 Journalists in Reuters bureaus around the world gave the thumbs up sign on Wednesday as they remembered their two colleagues held in Myanmar on this day 12 months ago.
Wa Lone, imprisoned with his colleague Kyaw Soe Oo, cheerfully gave the thumbs up at every court appearance since their detention in what Stephen Adler, editor-in-chief, called "a set-up by police, intended to interfere with their reporting on a massacre in Myanmar".
The fact that they remain in prison for a crime they did not commit calls into question Myanmar's commitment to democracy, freedom of expression and rule of law, Adler said. "Every day they continue to be behind bars is a missed opportunity for Myanmar to stand up for justice. The people of Myanmar deserve the freedoms and democracy they have long been promised, and Wa Lone and Kyaw Soe Oo deserve to be returned to their families and colleagues immediately."
Reginald Chua (photo), executive editor for editorial operations, data and innovation, said the pair are "holding up pretty well" despite being in jail for something they did not do.
But he told Press Gazette that not being able to regularly see their young children is a major source of suffering for the them. Wa Lone has only held his newborn daughter twice - she was born while he was in jail.
Reuters has appealed against their conviction citing evidence of a police set-up and lack of proof of a crime taking place, with the case set to be heard on 24 December.
"On the merits of the case and certainly how we have seen the trial conducted, one would expect and believe that any reasonable appeals court would overturn the conviction and let them go," Chua said.
He added: "I think it's important for the world to continue to say that they care about Wa Lone and Kyaw Soe Oo.
"That they show that they believe in them, they show that they believe in the cause of press freedom more generally and that they essentially underscore their understanding that this is not a just imprisonment, that they are in jail for something that they did not do.
"It isn't simply 'let them go because they're good people' - which they are - but 'let them go because they should not be in jail'," he said.
Amal Clooney, barrister and counsel to Reuters, Wa Lone and Kyaw Soe Oo, issued a statement that said: "It has been a year since my clients, two courageous journalists, were falsely imprisoned for a crime they did not commit. For twelve long months, Wa Lone and Kyaw Soe Oo have been torn apart from their wives and baby daughters - simply because they reported the news. Earlier this week, Myanmar's President, U Win Myint, said that 'when there is no rule of law, democracy and human rights are lost'. I could not agree more. These journalists exposed mass murder and should be applauded for their public service, not imprisoned for it. Their future is in the government's hands, and the world is watching." ■
SOURCE

Reuters