News
Obituary: Brenda Maddox
Saturday 22 June 2019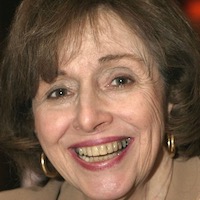 Brenda Maddox (photo), who has died aged 87, worked for Reuters - by her own account "briefly" - before becoming an award-winning biographer of such figures as D H Lawrence, James Joyce's wife Nora, W B Yeats, Rosalind Franklin and Margaret Thatcher.
Born in Bridgewater, Massachusetts, she began life in journalism on the Quincy Patriot-Ledger before moving to London to study at the London School of Economics. She then got a job on a Reuters desk in the early 1960s but did not stay long and became an Economist staffer for many years. Later she worked for The Daily Telegraph and The Times.
She recounted her time with Reuters and in Fleet Street to members of the Reuter Society at a meeting in 2007.
As an author, her greatest critical success came in 1988 with Nora: A Biography of Nora Joyce, which was translated into eight languages, won awards and was adapted into a film with Susan Lynch as Nora Barnacle, a chambermaid from Galway who inspired two of the most memorable fictional creations of the 20th century, Molly Bloom in Ulysses and Anna Livia Plurabelle in Finnegans Wake.
Her husband, Nature magazine editor Sir John Maddox, died in 2009. Their daughter Bronwen is a journalist and son Bruno a columnist and novelist. ■
SOURCE

The Daily Telegraph