News
Obituary: Christopher Thomas
Thursday 20 June 2019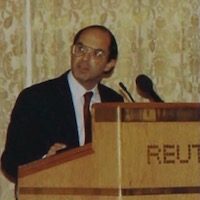 Christopher Thomas (photo), Reuters financial controller following the company's 1984 flotation on the London and New York stock markets, died on 6 June.
He ended a 15-year Reuters career in 1989 when Rob Rowley became group financial controller, moving to publishing and information services group Reed International.
Thomas became inaugural treasurer of the Reuter Society, formed in 1990 to "preserve and continue the comradeship developed among its members during their work for Reuters".
The funeral will be on 28 June at St Paul's Chapel, Exeter, and Devon Crematorium. ■