News
Obituary: Tom Brown
Wednesday 27 January 2021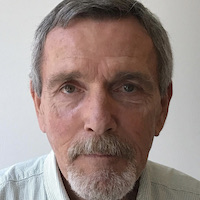 Tom Brown (photo), a long-time editor in New York for Reuters Global News Desk, died on Monday after an illness.
Editor-in-chief Stephen Adler, giving the news to colleagues, said in a note he will be sorely missed by everyone who worked with him in his 35 years at Reuters, both in the field and on the editing desk.
Brown joined Reuters in Panama in the mid-1980s. He had worked previously as a freelance journalist in Mexico, but at the time was a salesman for AP/Dow Jones.
"Tom wasn't interested in being a salesman," Adler wrote. "He wanted to report, and Reuters hired him to be a journalist. He remained in Panama until he was jailed and then expelled by Panamanian dictator Manuel Noriega.
"Over the years, Tom was posted twice to Mexico for Reuters, and he worked as senior correspondent in Bogota, Colombia. He served as Detroit bureau chief from 2000 to 2005, before moving to Miami for eight years. Tom often took on firefighting assignments. His wife, Emilia, recalls Tom covering the wars in Central America, the FARC, the ELN and other South American paramilitaries, the Armero mudslide and a devastating earthquake in Haiti. Emilia remembers his having been held hostage in El Salvador and surviving a car bombing in Medellin in Colombia."
When he was posted to Detroit, an auto executive told him that covering the guerrillas would be a piece of cake compared to reporting on the "Big Three."
"Tom also did various stints on the editing desk, with the last one beginning in 2013. His extensive reporting experience in the United States and Latin America made Tom a versatile editor who understood very well the pressures of being out in the field. On editing, he once wrote: 'Boring headlines and flabby leads are my biggest pet peeves, along with the lack of solid nut paragraphs ... Getting those three things right, consistently, would go a long way toward improving the file.'
"Tom cared deeply about his work and his colleagues, and he regretted his absence this month at a busy time. Three weeks ago, Tom wrote in an email to Howard Goller: "Talk about inconvenient, I can't imagine a worse time for the desk to be running on anything less than its four turbo-charged cylinders." ■