News
Journalist leaves Reuters after breaking quarantine in Japan
Monday 15 February 2021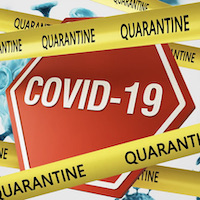 A Reuters correspondent has left the company after attending a party at a pub in Tokyo in defiance of Japanese quarantine guidelines.
The journalist has not been named but Reuters confirmed to Shukan Bunshun magazine "The employee is no longer working for us."
Under the headline 'Foreign Reuters journalist in Tokyo spreads mutant strain of coronavirus', English-language website Sora News 24 reported Shukan Bunshun's account which said a foreign reporter working at Reuters Tokyo spread the mutant strain of COVID-19 after attending a party within 14 days of arriving in Japan from the UK. Arrivals in Japan from abroad are required to quarantine in a hotel or at the traveller's residence for two weeks.
The reporter had returned to England temporarily for a vacation in mid-December and tested negative at the airport upon returning to Japan. Despite being asked to quarantine at home for two weeks, the reporter attended a party with nine friends at a Tokyo pub on 25 December.
After the party, a male friend who was at the party and the reporter's partner, who did not attend, contracted coronavirus. After undergoing a formal test, all three were confirmed positive. The two close contacts were found to be infected with the mutant strain of COVID-19.
The Reuters reporter admitted to breaking quarantine, telling Shukan Bunshun: "Yes, I was there for about an hour. I was negative (when I returned to Japan), so I thought it was safe. It was a mistake to break the two-week home-waiting period. I broke Japanese guidelines and went out. I only went to that pub once."
A Reuters spokesperson said: "We weren't aware of the situation and are currently investigating. We strictly adhere to travel restrictions for all staff, including in Japan, and staff are instructed to comply with local quarantine regulations and inspections."
A day after Shukan Bunshun published the story, Reuters' PR department tweeted the same statement, adding: "After discovering this issue this Monday, we immediately began investigating. The employee is no longer working for us." ■
SOURCE