News
Obituary: Victor Antonie
Thursday 11 March 2021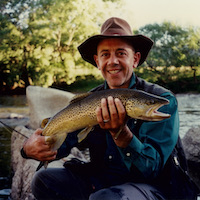 Victor Antonie (photo), whose career spanned the three big Reuters regions, died suddenly on 4 March, aged 59, in Johannesburg where he was chief producer for news and editorial in Africa for Reuters TV and Pictures.
Victor was a force of nature, with seemingly boundless levels of energy twinned with equal measures of passion, devotion and compassion, Ed Stoddard writes. It is testimony to his vibrancy and zest for life that so many friends, colleagues and former colleagues paid tribute to him. His career, family life and fishing frolics covered the globe, and he is remembered with great fondness around it.
"Victor brimmed with such vitality that it barely seems possible!" friend and former Reuters colleague Alister Bull, who is based in Washington, wrote on Facebook in response to the news of his passing.
Sreya Banerjee, one of many people who recalled Victor's mentorship, wrote on Facebook: "He gave me my break in journalism, first as an intern in Reuters Manila and then as a producer at the Reuters offices in New York and DC. He had a larger than life personality that could fill any room. He took a chance on people, often people he had never met. Always a thorough gentleman, he was kind, fair, generous and always had your back."
Victor Antonie grew up in Kroonstad, a working-class farming town in South Africa's Free State province. His heritage was proudly Lebanese, and he was in many ways the product of the Lebanese focus on hard work, education and the centrality of family. Such traits can be seen as socially conservative, but Victor had a liberal cast of mind. At the age of 10, he went off to boarding school in the hilly river-cut Midlands in what is now South Africa's Kwa-Zulu Natal province. He attended top private schools where he did not let his small stature keep him off the rugby pitch. Victor would always be grateful to his father for his foresight and sacrifice in ensuring his children had a quality education. He would carry on the tradition in the many Reuters postings he had around the world in an era when an ex-pat manager's package included top-of-the-range private schooling. Victor was always grateful to Reuters for that, and his children were grateful for education they obtained from their worldwide family adventures.
"He was the best dad. He took us on an adventure around the world, raised us to be strong and caring and told the best stories," his daughter Pascale said.
While attending school in the Midlands - picturesque home to some of the best trout fishing waters in South Africa - the currents of Victor's life would also lead to him to be hooked on the art of fly fishing, thus beginning a life-long addiction which he shared with his brother Michael. For Victor, family, friends, fishing and food were the Four Fs that consumed his life outside of work, which he tackled with all of the enthusiasm that he did everything else. Long before it was fashionable, Victor struck a "work/life" balance. He did so much of both that at times it scarcely seemed possible there was only one of him.
His devotion to his family betrayed roots that reached into Lebanon, where the family is cherished. He was devoted to his family, the many accomplishments of his children - Pascale, Lili and Gabriel - a source of great pride. He adored his wife Freddie, a French national who passed her mother tongue on to her children. They were together for 41 years and Victor always described her as "the love of my life". He was looking forward with obvious joy to becoming a grandfather in May.
Cooking and food were among his passions. Like everything else in his life, Victor's appetite belied his size - he could eat like a horse and he did so with relish. His metabolism may have had something to do with that. He was a certified Cordon Bleu chef and he took the greatest delight in cooking for friends and family.
At Reuters, Victor was a towering figure. He started with Visnews in 1989 in Namibia and would go on to cover Nelson Mandela's release from prison and apartheid's tense final years. From there he went to a posting in Nairobi in 1994 as senior producer. Postings in Singapore and Washington followed, with two assignments in Israel and the Palestinian Territories. His career came full circle when he returned to South Africa in 2012 to lead coverage of the last stages of the Nelson Mandela story. He stayed on to run video across Africa for Reuters from Johannesburg, and recently took on responsibility for the photo operation too.
"There's lots to love about Victor. A caring, compassionate, thoughtful soul. Listening to him think out loud was worth paid admission. Boundless imagination, curiosity and radiating energy propelled him like a whirlwind," former Reuters chief cameraman Bart Noonan said.
Reuters cameraman Leon Malherbe, a South African now based in Berlin, recalled the Saturday morning in April 1993 when the South African Communist leader and ANC heavyweight Chris Hani was assassinated outside his home - an event that almost derailed South Africa's transition to majority rule. Leon was getting his hair cut at the time and the barber had only cut one side of his hair when Victor called and told him to not worry about the other side, get to the scene! As a result, Leon was the first there after the police, nailing the story with his rakishly lop-sided hair style.
Victor often cut an unforgettable character in the office, shouting down his phone while smashing avocado onto his toast. He got things done and inspired fierce loyalty in those who worked for him, reciprocity for the loyalty he showed to them.
Victor was twice honoured with Reuters Journalists of the Year awards since his return to Johannesburg. The first, Video Story of the Year for 2013, was for coverage of Mandela's death, the other, Story of the Year, for distinguished coverage of the coup that toppled Robert Mugabe from power in Zimbabwe in late 2017. Fittingly, they were rewards that recognised team efforts.
To relax, Victor loved to go fly fishing. It was a consuming passion that only those who have risen to it can relate to fully, but Victor's compelling story-telling - often in decibels that would scare most fish away - could raise the interest of even the uninitiated. His pursuit of trout on fly in rivers was his abiding pastime, and he was a master at it, honed over the years on the magical Mooi River in the Midlands and waters in New Zealand, Kenya, Lesotho and Bosnia. Reeling others into the world of fly fishing was one of his joys.
Mark Chisholm, a South African video journalist who works for Reuters in Beijing and who had many an African adventure in the field with Victor, recalls the wedding present Victor gave him: a stint of Atlantic salmon fishing on a Scottish river. Mark would land a 21-pounder, a record for the year on that beat.
"When I pulled it out he was like a proud father to a new child," Mark recalled.
I spent some time with Victor a few hours before his sudden passing, a weekly ritual spent in my garden when Victor would relax and fishing trips would be hatched. That evening we spoke of his family and his impending grand fatherhood, the book he was reading at the time - Paul Theroux's account of his travels in Mexico - and, of course, fishing. He had recently acquired a new SUV and had big plans to fish his beloved Mooi River over the long weekend in Easter, when the austral autumn would begin cooling the waters. Twelve days before, he had cast for the last time with myself and another friend on a stream not far from Johannesburg, where he tried out a new rod. It is a custom-made work of art that was a gift from his children. It is a beautiful rod, and he cast it beautifully. ■