News
Nazanin released but faces new court date
Sunday 7 March 2021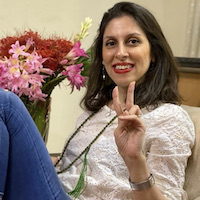 Nazanin Zaghari-Ratcliffe (photo), the Thomson Reuters Foundation manager jailed in Iran five years ago on spying charges, had her ankle tag removed on Sunday but faces a new court case.
Her husband Richard Ratcliffe, who is in London, has been told a new case against her is scheduled for next Sunday.
She had been under house arrest in Tehran since being moved from prison last March. She has always denied the charges against her.
British foreign secretary Dominic Raab said she should be allowed to return to the UK. "We welcome the removal of Nazanin Zaghari-Ratcliffe's ankle tag but Iran's continued treatment of her is intolerable. She must be allowed to return to the UK as soon as possible to be reunited with her family," he said in a tweet.
Zaghari-Ratcliffe, 42, had been out of prison due to the coronavirus pandemic and her sentence was due to end today.
She was arrested in April 2016 while travelling to visit her parents in Iran with her young British-born daughter, Gabriella. She was sentenced to five years in prison over allegations of plotting to overthrow the Iranian government, which she denies.
British prime minister Boris Johnson called for Zaghari-Ratcliffe to be released "permanently" so she can be reunited with her family in the UK.
He said he was pleased about the removal of her ankle tag, but "her continued confinement remains totally unacceptable".
"She must be released permanently so she can return to her family in the UK, and we continue to do all we can to achieve this," he wrote in a tweet.
Richard Ratcliffe said it was "a mixed day for us" and "Nazanin is genuinely happy" to be free of her tag.
"I'm a bit more guarded - it feels to me like they have made one blockage just as they have removed another, and we very clearly remain in the middle of this government game of chess," he said.
Ratcliffe, who believes his wife and other dual nationals are being held hostage because Iran wants the Britain to pay a decades-old debt over an arms deal that was never fulfilled, added: "I don't think we expected something clean but how muddy this is I'm not quite sure yet."
Antonio Zappulla, chief executive of the Thomson Reuters Foundation, said he spoke to her on Sunday and she was "ecstatic" to be able to have a coffee in a café.
"Nazanin should be allowed her permanent liberty and to walk away from this appalling affront to justice; instead, for all intents and purposes, she is still held hostage," he said. ■
SOURCE