News
Nazanin tried on new 'propaganda' charge
Sunday 14 March 2021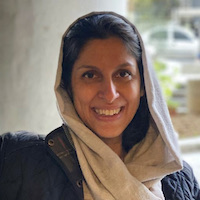 Nazanin Zaghari-Ratcliffe (photo) was tried in Iran on a fresh charge on Sunday, one week after her home arrest ankle tag was removed at the end of a five year sentence.
The Thomson Reuters Foundation project manager, detained since 2016, appeared in court on a charge of "propaganda against the system".
Her lawyer Hojjat Kermani told the Iranian Emtedad website he hoped she would be acquitted.
"Her trial was held at branch 15 of the Revolutionary court. Her charge is propaganda against the system," Kermani was quoted as saying by the website.
"The trial was held in a calm atmosphere with the presence of my client ... The legal defence was made and the final defence was taken ... I am very hopeful that she will be acquitted."
It is not clear when the judge will make his decision.
Zaghari-Ratcliffe's husband Richard said in London the British embassy in Tehran had declined to accompany his wife to court.
She was jailed originally for allegedly working against the Iranian government, which she has always denied.
According to her lawyer, she was accused of taking part in a demonstration outside the Iranian embassy in London 12 years ago and giving an interview to the BBC Persian service.
Her family fear the court case could be used to block Zaghari-Ratcliffe's return to the UK because the Iranian government wants to keep her for diplomatic leverage.
Earlier, Richard Ratcliffe said that neither he nor his wife had any idea what to expect. "It's like trying to read tea leaves," he said.
"The charges are irrelevant. This is not a real court process. This is not a fair trial - it's an act of abuse.
"Nazanin is now pretty stressed. She is extremely twitchy, restless and agitated."
Ratcliffe had hoped the British ambassador would accompany his wife to the trial, but said the British embassy in Tehran had declined.
"I am disappointed that the embassy has declined to accompany Nazanin to the Revolutionary Court," he told the BBC.
"To my mind, it is a missed opportunity to protect her, a missed opportunity to stand up for her as British, and it is not the first. I hope that timidity is not a choice that we come to regret."
The Foreign, Commonwealth and Development Office in London said it had formally requested access to the hearing. ■
SOURCE