News
LSE boss's pay nearly tripled after Refinitiv takeover
Tuesday 23 March 2021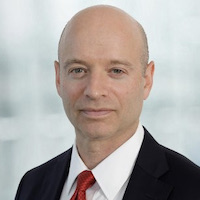 The CEO of London Stock Exchange Group tripled his pay last year after the company's $27 billion takeover of Refinitiv led to a surge in LSE's share price.
David Schwimmer (photo), a US banker who has been LSE chief executive since 2018, was paid a base salary of £800,000, a £1.4 million bonus, plus £4.3 million in long-term bonus shares, according to the company's annual report published on Monday.
Alongside other benefits such as £213,000 of private medical insurance and expatriate allowances, Schwimmer's total 2020 pay was £6.9 million - a 180 per cent increase on the £2.5 million he collected in 2019 - making him one of the highest-paid bosses in the FTSE 100.
The bumper pay was a reflection of LSE's 50 per cent share price growth between August 2019, when the Refinitiv deal was announced, and its closing in January 2021.The LSE owns the London Stock Exchange, on which it is listed, as well as other exchanges in Europe.
Details of Schwimmer's pay comes as investors have turned more cautious on the speed of integration of Refinitiv. Its shares had their biggest one-day fall in 20 years earlier this month on news of a higher-than-expected £1 billion budget to integrate Refinitiv in the first year. LSE shares have dropped 25 per cent this month.
German investment bank Berenberg said the LSE's tumbling share price this month reflected "a battle for belief". It "reflects investors' waning confidence in LSE's ability to extract synergies from its acquisition of Refinitiv, as well as concerns about future revenue growth", said analyst Chris Turner.
The purchase of Refinitiv is designed to allow the LSE to compete with global financial information provider Bloomberg. The market for financial information has exploded with the advent of computer-driven trading, triggering a flurry of takeovers as companies seek to create one-stop shops to serve clients and get an edge over traditional rivals in supplying data.
Not only did the acquisition treble the LSE's revenues, it made the group more reliant on data and analytics, and less exposed to uneven income from trading. The shares had climbed more than 50 per cent from the deal being announced in August 2019 and its closing in January.
Schwimmer's pay is far higher than the FTSE 100 chief executive median average pay of £3.6 million, according to data from the High Pay Centre, which lobbies against excessive executive pay. He was also given a 25 per cent lift in his basic pay for 2021, to £1 million.
Bankers and others advising on the LSE's purchase of Refinitiv earned more than $1 billion in fees on the deal, making it one of the highest-paying acquisitions in British business history. ■
SOURCE

Financial Times