News
Thomson Reuters faces pressure to dump ICE contracts
Thursday 3 June 2021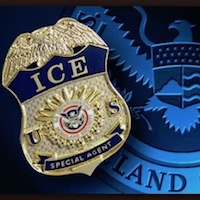 Thomson Reuters is under increasing pressure to re-evaluate its contracts with US Immigration and Customs Enforcement (ICE) which critics say facilitate deportations of immigrants and perpetrates human rights abuses, The Guardian reported.
Reuters parent company has had contracts with ICE since 2015 including providing it with software called Clear, which consolidates public records, including motor vehicle and arrest databases, to track people for deportation.
Shareholders will vote next week on whether it should assess the human rights impact of such contracts, which allow ICE to "track and arrest immigrants on a massive scale", according to Jacinta Gonzalez, a senior campaign organiser for the advocacy group Mijente.
"Thomson Reuters has a long history of supporting immigration enforcement in the United States, including funnelling the data of tens of millions of Americans directly to US Immigration and Customs Enforcement, which has used this data to terrorise and deport immigrants throughout the country," The Guardian quoted Gonzalez saying.
"The company has a responsibility to investigate these practices for human rights abuses," she added.
A new shareholder resolution, to be voted on 9 June, calls on Thomson Reuters to produce a human rights risk report on its $4.5 million in active contracts with ICE. It was introduced by the BC Government and Service Employees' Union (BCGEU), a labour union in Canada with holdings in Thomson Reuters.
The resolution seeks a report on "how Thomson Reuters assesses its role in contributing to and being directly linked to human rights impacts by end users", and how the company "mitigates its role in contributing to adverse human rights impacts from end users".
A vote of more than 50 per cent is needed for it to pass. Last year, a similar resolution received nearly 30 per cent votes in support by independent shareholders.
Thomson Reuters board of directors opposes the resolution, saying it is already addressing the concerns raised in the shareholder proposal through "various other mechanisms that it has in place to reflect its commitment to respecting human rights".
"Thomson Reuters takes its role as a good corporate citizen very seriously," it said in a notice on the meeting. ■
SOURCE