News
Le Monde sees gaps developing in Reuters world coverage
Friday 11 June 2021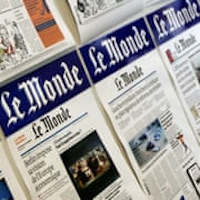 Cost-cutting in Reuters news service is causing gaps to develop in the agency's world coverage, according to the French newspaper Le Monde.
In a lengthy article Le Monde said Reuters new editor-in-chief, Italian journalist Alessandra Galloni, had an excellent reputation. It quoted employees as describing her as charismatic, a good performer in editorial conferences, multi-lingual and truly international in outlook.
But it saw her task as extremely delicate, as there was a great malaise among staff, and editorial policy seemed to be neglecting the traditional work of a news agency.
Among the shortcomings the article highlighted was initial coverage of the blockage of the Suez Canal by the Ever-Given container ship. It quoted The Baron as reporting that Reuters was five hours behind Bloomberg with the first news. It said the agency did not deny this, while adding that an insider gauged the delay at "only" six minutes. The newspaper commented that for news affecting financial markets "every second counts."
One client, Mediapart, ended its Reuters subscription in January 2020 on the grounds of a degradation of the service, in particular coverage of French news, according to the report.
Among the cost cuts cited by Le Monde was delocalisation of basic news coverage to cheaper centres such as Gdansk in Poland and Bangalore in India. It quoted a Paris union delegate as saying most of those employed in Poland had no training in journalism and some did not master the French language. Since 2010, staff in France have been reduced by half, it added.
Le Monde described the Reuters news agency business as lost within the giant Thomson Reuters group, for which it represented just a footnote. The newspaper added that Alessandra Galloni declined to be interviewed for the article. Reuters did not respond to a request from The Baron for comment. ■
SOURCE