News
Reuters chief changes top team in drive for 'speedy and smart' newsroom
Monday 30 August 2021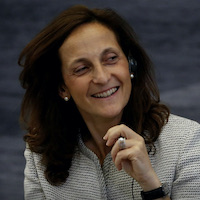 Reuters announced changes to its editorial leadership team to focus rigorously on breaking news and beat reporting and meet the needs of its major customers.
Tiffany Wu, global managing editor for curation, editing and publishing, and Mark Bendeich, regional editor for Europe, will become global managing editors for news gathering. Simon Robinson, global managing editor for newsroom, will become global managing editor for news publishing.
Alessandra Galloni (photo), appointed editor-in-chief in April, said in a message to all staff: "These new appointments will help drive the new Reuters newsroom: speedy and smart, leveraging a global footprint with local expertise to deliver coverage of the most important stories in the world, for the world, without bias, both in real time and in depth, and with sophistication and insight. How do we do this? With a rigorous focus on breaking news and beat reporting."
Wu will be global managing editor for business news, overseeing financial, corporate, commodities and markets news gathering operations around the world to deliver news and insight for Reuters biggest customer, Refinitiv, and its Eikon/Workspace terminal, as well as agency customers who need the top global business stories of the day, plus the professional audience on reuters.com.
A key part of her role will be to ensure bureaus coordinate with the offshore editorial centres in Bangalore and Gdansk.
Bendeich will be global managing editor for politics, economics and world news, overseeing political, economic and general news gathering, supervising regions and new breaking news hubs around the world - coverage crucial for Refinitiv, agency and reuters.com audiences, Galloni said.
"Mark will be charged with finding smarter ways to serve our Agency customers, whose needs are clearer than ever," she said. With John Pullman, global managing editor for visuals, he will integrate text and visuals reporters into unified teams.
Robinson will oversee the newsroom when Galloni is absent and bring together editing, curation and production desks including reuters.com. "This will allow us to capture a greater slice of the professional market by thinking about Reuters Professional as an integrated whole across our digital properties, newsletters, events and more."
Other senior roles remain unchanged: Gina Chua, executive editor; Jane Barratt, global editor, media news strategy; Jonathan Leff, global editor, financial news and strategic operations; Michael Williams, enterprise editor; Rob Cox, Breakingviews editor; and Alix Freedman, global editor, ethics and standards.
In addition, Asia will split following regional editor Kevin Krolicki's return to a reporting role. Regional news editors for South Asia and, separately, for North Asia and Australia will be appointed.
What these new positions have in common is that they aim to bring news-gathering leaders closer to those on the ground, closer to the story and therefore more responsible and accountable than was possible before, Galloni said.
"With two editors who are focused on the two main areas of our file - the world and business arenas - the newsroom will have greater direction and focus. This is crucial, because we have a clearer understanding than ever of what's needed by our customers: Refinitiv, Agency clients and Professionals." ■
SOURCE

Reuters