News
Thomson Reuters rescinds Armed Forces Covenant
Wednesday 17 November 2021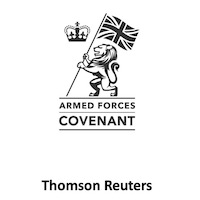 Thomson Reuters on Wednesday withdrew from a controversial UK military covenant after an unprecedented outcry from current and retired journalists and former senior executives.
"The Armed Forces Covenant was signed with the best intentions, but news of our participation led to concerns from colleagues that such a public pledge would undermine the Trust Principles and compromise the independence of our Newsroom and the safety of our journalists - particularly those working in combat zones," it said in a statement.
The statement, signed by the two executives who announced the Covenant last month, said: "We listened to this feedback and after careful review and consultation, we have made the decision to withdraw our signature from the Covenant to preserve the safety and neutrality of our reporters. We wrote to the Ministry of Defence today to inform them of our decision."
That review - announced a week ago - included Reuters editor-in-chief Alessandra Galloni and other senior editors. Three previous editors-in-chief were among those who condemned the company's signing of the Covenant.
The executives - Lucinda Case and Mark Sandham - added: "As part of this, we would like to underscore that this decision, made in the interests of the safety of our Reuters colleagues, does not affect our deep commitment to build on our work to be an inclusive, suitable and diverse organisation that supports people from all backgrounds, including military veterans. It is just a question of how we pursue that objective."
They said Thomson Reuters had, for many years, been a welcoming employer for those who had served their communities and nations. "We will continue to show support to veterans, both in the U.K. and globally, through our Veterans Network - and we will continue our historic support of Armistice Day and the Royal British Legion's Poppy Appeal, which many of our staff voluntary took part in again this year. We also aim to work with non-governmental organisations focused on creating opportunities for those who have worked in the armed forces." ■
SOURCE