News
Hybrid working means Thomson Reuters campus is too large
Thursday 13 January 2022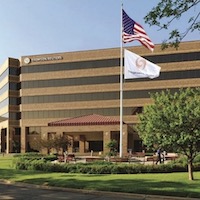 Thomson Reuters is considering options for its legal services campus in Eagan, Minnesota (photo) because of more hybrid working between office and home.
It may sell or reduce its presence in the 1.3 million square feet office complex set in a 263-acre park, the Minnesota Star Tribune reported.
Paul Fischer, president of Thomson Reuters Legal Professionals, told employees in an e-mail recently that it is committed to maintaining its operations in the twin cities of Minneapolis and Saint Paul.
"The foundation of this project is simple - we want to create a modern, energized and collaborative work environment that fully supports our hybrid ways of working for our office-based roles," Fischer said in the e-mail.
A spokesperson for the company said that, while it has made the decision to explore its options, the property is not currently being marketed.
Before the COVID-19 pandemic, Thomson Reuters had about 5,000 employees working at the campus. It shifted to remote work as the coronavirus spread in early 2020.
This spring, Thomson Reuters will implement a hybrid work policy that requires employees to be in the office about three days a week. That will mean only about 2,000 to 3,000 employees on the Eagan campus at any given time.
"Given the vacancy level in our buildings, the site is too large for the company's current needs," Fischer said.
Options include staying in current buildings, investing in the site or moving to a new location in the Twin Cities.
The Eagan site has employees working all segments of Thomson Reuters, but most work in the legal publishing business or as part of its technology, editorial or print operations.
Fischer said that even before the pandemic the company was not fully using all the space it had available. In 2010, the company had 7,000 employees at the site. That was down to around 6,000 in 2018. ■
SOURCE