News
Nazanin: Home after six year ordeal and reunited with her family
Thursday 17 March 2022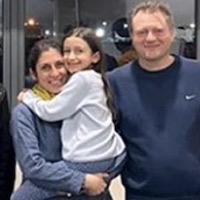 Thomson Reuters Foundation project manager Nazanin Zaghari-Ratcliffe was reunited with her family on Thursday after Iran freed her from almost six years' detention.
She landed at Brize Norton air base an hour after midnight with another dual British-Iranian national, Anoosheh Ashoori, who was also released.
Their families were waiting for them for emotional reunions. Zaghari-Ratcliffe's seven-year-old daughter Gabriella could be seen with her arms round her mother's neck.
British foreign secretary Liz Truss said the pair's release had been uncertain until the last minute, adding that recent days had been very emotional for both families.
"I'm pleased to say that both Nazanin and Anoosheh are in good spirits," she said.
Their freedom followed settlement of a British government debt of almost £400 million. Britain said the money would be ring-fenced for humanitarian purposes.
The debt dated to the 1970s when the then Shah of Iran ordered 1,500 British Chieftain tanks and 250 armoured recovery vehicles. After the Islamic revolution in 1979 the UK cancelled the order, having delivered only 185 tanks. Iran then demanded its money back for the undelivered vehicles.
Zaghari-Ratcliffe's ordeal began in 2016 at the end of a visit to her parents with her daughter, then 22 months old. She was arrested by the Revolutionary Guard and accused of plotting to overthrow Iran's clerical government, a charge she denied.
Zaghari-Ratcliffe, 43, will begin her first day reunited with her family "learning how to be happy again", her husband Richard Ratcliffe, 45, told The Times.
He said his wife and Gabriella, now seven, were looking forward to "the beginning of a new life" together, adding: "There's no solace in looking backwards at the time we've lost."
On his way to the airfield last night Ratcliffe said: "It will be baby steps. She has been sad and depressed a lot of the time. Learning to be happy again is probably actually where we start as a family.
"It will be a process ... we will take it one day at a time. It is the beginning of a new life and hopefully a happy one."
He revealed that on Sunday his wife had been summoned to Iran's intelligence ministry and given her British and Iranian passports. Officials from the Islamic Revolutionary Guard Corps "put the fear of God in her" and said:
"You need to tread very carefully and your husband needs to tread carefully." Ratcliffe said: "They said, 'If you co-operate you're going to be on a plane tomorrow', and so she co-operated."
The Thomson Reuters Foundation, a charity that operates independently of Thomson Reuters and its news subsidiary Reuters, said it couldn't wait to have her back as soon as she was ready.
CEO Antonio Zappulla said: "No one can begin to imagine what Nazanin has endured throughout the past tortuous six years; denied her freedoms, separated from her husband and young child, battling significant illness, thrown in solitary confinement. An innocent victim of an international dispute, Nazanin has been one of many used as political pawns. Her treatment has been utterly inhumane."
He described her as a truly remarkable woman, with a truly remarkable family and added: "In a time when the world is in turmoil and the news has been consistently bleak, Nazanin's freedom is a ray of light and hope … we cannot wait to have her back with us at the Thomson Reuters Foundation whenever she is ready." ■
SOURCE