News
Obituary: Michael Arkus
Tuesday 2 August 2022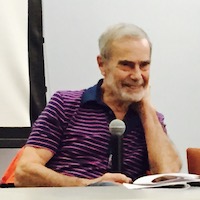 Michael Arkus (photo), who died of cancer in a New York hospital on Tuesday aged 86, was Reuters man in Havana in the 1960s when, "intent on avoiding work by spending hours every morning at the beach," he espied a familiar beard floating on the waters.
Fidel Castro had not been seen in public for weeks. He had been deposed or was at death's door, or so the rumours went.
Arkus jumped into the waves and swam out to the Cuban strongman but by the time he picked up the nerve to ask Castro something he was already out of the water and disappearing behind the pine trees with a small number of guards, after chatting with ordinary Cubans on the beach.
"But as luck would have it, there he was the following day. Prepared this time, I shouted out to him if I could ask him some questions. He waved me over just as a guard was descending on me, making a weak joke about English weather. 'My first swimming interview,' he said. We talked, swimming and standing, for over 90 minutes before we traipsed out and he bid me farewell: 'Well, if you can remember all that, go and publish it.'
Castro was there the following day, too, though none of the other journalists thought of going out to check up. Arkus had another conversation for 20 minutes - "after he blamed me for his getting his shoulders sun-burnt."
There was no doubting the charisma of the man, Arkus wrote decades later, and one could not but help thinking what he might have achieved had he been less impulsive and repressive. Graham Greene slammed Castro's repression of Catholics, non-subservient intellectuals and homosexuals, but at the same time said: "There is an extraordinarily likeable quality in the man."
"And above all, a lightning-quick mind and wonderful way with words. When I asked him if he'd have had a better chance of coming to terms with Washington if Kennedy was still president, he replied: 'Johnson is a mediocre bandit, whereas Kennedy was an intelligent bandit.' That got into the London Observer's Sayings of the Year.
"Fidel was forever professing his undying commitment to Marxism," Arkus wrote, "but 1960s Cuba was nothing like the drab communist models of the Soviet bloc; here Marxism veered closer to Groucho than Karl."
Arkus loved his time in Havana, squeezing every minute of fun out of Cuba's tropical joie de vivre.
"I may have only had running water an hour a day, if that, in the Reuters flat-cum-office, but I had 71 wild, throbbing, pulsating nightspots within a mile or two's radius, and tried them all - not in one night, though.
"Above all, there was the inestimable bonus of being so cut off from Reuters' head office that they left you alone, with barely a communication. One of the few I received came after I got pissed off about something and filed nothing for over three weeks. 'Thank you for keeping cable costs down in August,' chief news editor Stuart Underhill wrote."
On one memorable occasion Arkus resigned Castro as prime minister during a communist politburo meeting. "Well, I had it from 'reliable sources', and it was merely a technicality since he would keep the all-powerful post of first secretary in line with general communist practice.
"New York or London rewrote it and sent out a snap, omitting the technicality and first secretary part. By the time those provisos limped in with a slow second take, radio stations up and down the Americas had already interrupted normal broadcasting with a 'Breaking news, this just in from Reuters in Havana…'
"Fortunately the other hacks in Havana followed my lead. Of course he never did resign. The party meeting was to purge an anti-party group."
Arkus spent his early childhood years dodging bombs in a wartime London suburb. After studying Latin and Greek and reading classics, ancient history and philosophy at Oxford, he taught briefly as a supply teacher in various London schools "before blundering into Reuters one lackadaisical summer's afternoon, more out of boredom with teaching than from any deep passion for journalism." There he was taken on for eight weeks of holiday relief work.
In 2002 - Just 19 days short of 42 years later, he "blundered out of Reuters," parting company in his final reincarnation as quality editor for North and South America after a dispute over editorial quality.
During those four decades he had multi-year assignments in Paris during the closing days of the Algerian war, Cuba during the golden age of the Castro revolution, Israel during the war of attrition with Egypt over the Suez Canal, and Brazil during the torture-filled years of military dictatorship, along with senior editorial positions in New York.
After retirement he worked on fixed terms contracts as a public information officer for the News Media Division of the United Nations Department of Public Information in New York.
His passion was travel, especially to many of the world's most out of the way places. He visited more than 270 of the 321 countries and territories listed by the Travelers' Century Club - from Greenland and Iceland to Antarctica, Patagonia and the Falklands, and from Papua-New Guinea and Borneo to Sao Tome and Principe and Gabon.
In a typical year he would spend a week in the Virgin Islands; another week in Saba, Statia, St Barths and Anguilla; a month in the Galapagos and Ecuador's Andean and Amazon regions; and seven weeks in Angola, both Congos, Djibouti, Somalia (Somaliland) and Ethiopia.
Determined to have the last word, Arkus wrote a message to be sent after his passing. It read: "By the time you get this, I will have already departed on the greatest, longest, looniest mystery tour yet, destination unknown.
"I can't say it hasn't been fun surfing the waves of work and play right through to the ninth decade - a great spring, a giddy summer, a gratifying autumn. But what's wrong with a glorious winter sunset?
"Perhaps, though, it might be better if life's cycle went in reverse as George Carlin proposed: you die first and get that out of the way, then you go backwards, getting progressively younger until you end up with that explosive primal orgasm." ■