News
Obituary: Rolf Söderlind
Sunday 2 October 2022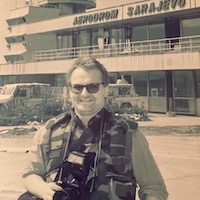 Rolf Söderlind (photo), correspondent for UPI, AP and Reuters, died, very suddenly, on Friday at age 72, his wife, Heather Norman-Soderlind reports from the home they shared on the South Devon coast.
Rolf joined Reuters in Bonn in 1988 and undertook a number of memorable assignments, particularly based in Tirana during the Kosovo War.
Moving to join his wife in London in 2000, he also held positions in Editorial Support and Internal Communications, leaving Reuters in 2006 to run a freelance business.
In retirement he became a proficient and prolific writer of novels in both Swedish and English. His latest published book is Vedergällningen (The Revenge) (Lava Förlag, 2022). He is survived by his two daughters, Jenny and Tora and their families, as well as his wife, Heather. ■